My goodness, I'll seem chatty today. I have some news to share as well as a new release from Our Daily Bread Designs. First for my news, I've been invited to join the Magnolia-licious Design Team!! This is a pure indulgence for me as I've been smitten with those stamps for quite a while. Unknown to many of you, I like just about every genre of stamp there is. I have quite a bit of artsy, elegant, eclectic and yes, quite a few cute stamps. I've been hunting for something to take to the little girls at Sunday School in the way of cards, and these will fit the bill. The ladies on the design team are as sweet as can be and have shown me a warm welcome. I'm jumping in with them today and this week we have a Blog Hop on Friday, June 5th; I hope to see you then!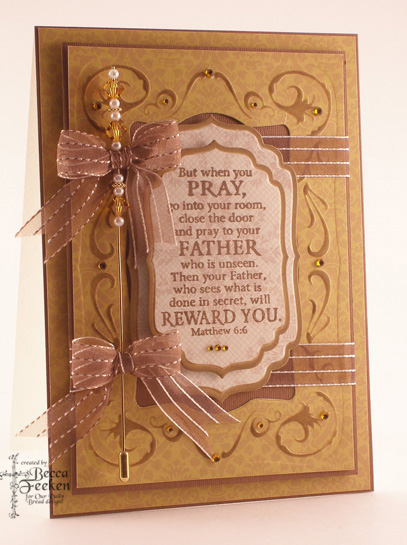 Now on to my card for today . . . this is one of the magnificent new releases with Our Daily Bread Designs and this particular set is called Ask, Seek, Knock. Be sure to pop on over to ODBD to see the other set that rounds out the June Releases!
If you can't tell, this Spellbinders Decorative Frame is one of my very favorites, I use it often. This time I decided to change it up by embossing and stenciling on design paper. I know the idea sounds "busy" but I really like the way it frame turned out. The paper is subtle enough to take it. I used the same ink for the frame, the sentiment and the edging on the double stacked Spellbinders Labels Four. After I embellished the frame with topaz bling, I added a hat pin to which I added pearls and swarovski's.
TIP: I know you will ask so I'll go ahead and give a little explanation about the border around the Labels. Normally I would do a reverse stenciling technique like I did on THIS post. Because I wanted the ink to be the same as I used with the stenciling and because I was NOT using pigment ink as you need for reverse stenciling, I created a set of masks to use on the Labels dies that expose just the outer edges. I did that by tracing around the insides of the die I was using with a pencil and then cutting out along that outline. Then using repositionable glue I tacked my cut out on top of my die cut and sponged around the edges, removing the mask when finished. It's a sure fire way to get a different look with your dies.
Card Recipe:

Stamps: Our Daily Bread Designs – Ask, Seek, Knock
Paper: Bazzill, SEI Windsor
Ink: Brushed Corduroy Distress Ink
Accessories: Spellbinders Decorative Frame, Spellbinders Labels Four, Bling from Michaels, Hat Pin from Hobby Lobby, Miscellaneous Beads, Ribbon
Don't forget, since this is a new release day for Our Daily Bread Designs, there is another new set to see yet!! All of the design team members are listed on my sidebar – be sure to visit to see what everyone is posting today. Yes, Amy Sheffer, Angel Wilde, Angie Zublionis, Betty Wright, Laurie Schmidlin, Chris Olsen, Dina Kowal, Jane Wetzel, Judy Rozema, Angella Crockett and Lorelie Kim have new cards to share too!