I don't share much information about myself and I guess it's because I'm naturally long winded and I typically have a lot to say about whatever I've created for the day.  As I reflected on life, crafting and blogging, I wanted to share some information with you.  If it's TMI then I trust you to set it aside and if it helps you to know where I am in my crafting, healing and faith then perhaps I've made the right choice in sharing.

Years ago my husband became ill and I found myself literally tethered to home as a caregiver.  I was going crazy for something to do to keep me busy and out of the throes of worry; Amazing Paper Grace was born and literally rescued me from despair.   Well, to the rescue again . . .
In mid-November, we had to go to San Antonio for a week long check up for hubby.  They wanted to immediately do a Bone Marrow Transplant so we've been in San Antonio until three days ago.   Through Thanksgiving, my anniversary, Christmas, Blog Hops and crazy stuff with the hosting company for my blog, I crafted from a bedroom in our RV.  Yes, it can be done!
Hubby had a rough, rough time and ended up in the hospital for almost the entire month of December.   Even though I was alone in our RV, I was never alone and spent hours in prayer.  I can't tell you how grateful I was to have a blog to keep me busy and thinking positive thoughts.
I specifically want you to know that my design teams pulled out all the stops and got behind me in unwavering support.  It gives me such pleasure to know that I work with good, compassionate people that have a "family first" attitude.  Thanks so much to Michelle Rodgers with Stamper's Dream, Diana Crick with Scor-Pal/Magnolia-licious, All the folks at Spellbinders, Kelley Holland at Our Daily Bread Designs, Suzanne Cannon at Quietfire Design, Jan Marie Caruso at Flourishes, and Kellie Fortin at JustRite.  Please know that I support them because I love their products and the character they infuse in their companies.


As my family was reunited this week, I rejoice.  It's all good now, my Hubby is on the mend and hopefully life will return to normal soon (although I have not unpacked yet, looked through mail or listened to messages on the answering machine)!   My life is so blessed and it's so, so good to be home.  I'm inspired to kick off a new year at Amazing Paper Grace.


I have some tutorials in the works that I just could not find a way to share while I was away (I really didn't have that much stuff with me and we never thought we'd be away so long).  Before the month of January is over I'll be sharing a Best of 2009 Post.  I hope you'll bear with me as I get reacquainted with my studio and caught up on commitments!  Stay tuned, 2010 is going to be a spectacular year!!

---
Okay, I do have a project to share, it's springy and optmistic.  This is a seed packet organizer I made earlier in the year that I can share now.  It was done for the Dirty Girls Fan Club Gallery and the theme was to make something based on a favorite TV Show – hence, Pushing Daisies.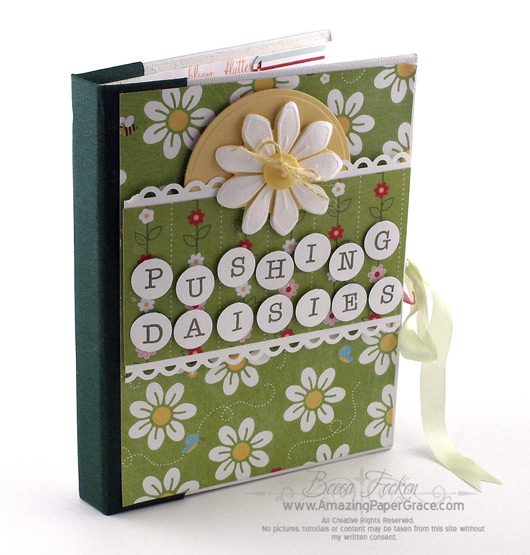 Well I hope to be pushing daisies into a garden as soon as it gets warm this year.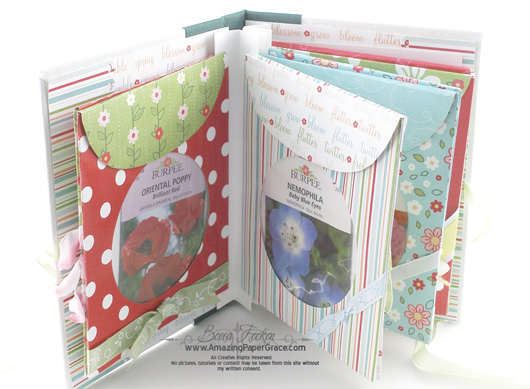 My organizer was made using the bright springy line of Imaginesce Twitterpated papers.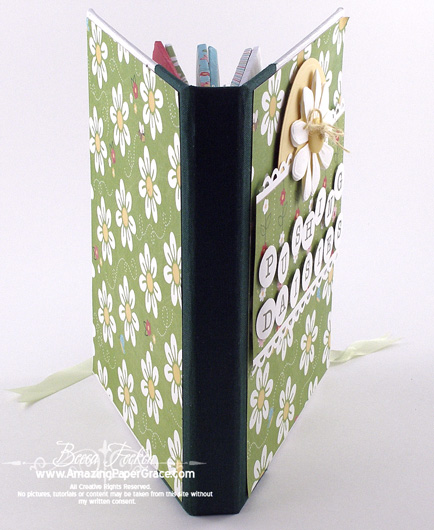 Using two hard canvas panels and glue backed fabric binding I created a book with an accordian inside spine.  On the spine I mounted back to back packets for the seeds and a tie closure.
Project List::

Stamps:  Stampendous Alphabet
Paper:  Imaginesce Twitterpated
Ink:  Black Brilliance
Accessories:  Ribbon, Spellbinders™ Daisy Heads, Fiskars Apron Lace Border Punch, Round Punch, Velcro
Thanks for stopping by.  My next projects will be short and sweet :-)