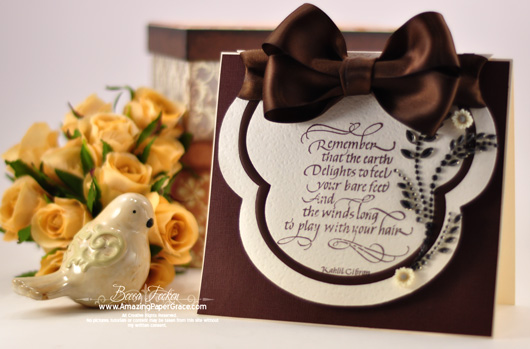 Yes it's true!  Remember last week when I told you I had to clear a path to get to my table?  This was one of the items that kept finding its way to the floor because it just doesn't seem to fit any of the categories of supplies I have.  Oh, I think I might have purchased this brown and cream element years ago from a clearance pile.  You'll have to scroll down to see a picture of the packaging and you might be surprised what it is.   It's a seat sign that you put on the back of a brides seat but I kept finding it underneath my feet.  So I have confession to make – when I throw things away they sit in a pile until it's time for them to be discarded, donated to the school, the senior center or goodwill.  Unfortunately, many many times they call my name, they peek out of the box, they reason that they are still worthy and I go and pull them out – arrrggghhh!!  Well I guess this one has a happy ending because I stamped this quick 5.5″ x 5.5″ card up the evening before I left for Akron and it came together in less than an hour (this never happens).   I used part of the packaging for my card base, I used the seat sign as my main panel and used the luscious satin ribbon for a double bow across the top of the card.  The only things I added were the Recollections Bling, the chocolate panel and the stamp!  We're all more frugal that we dare admit – If you have a moment share with me an item you rescued from the trash for crafts, I know I'm not alone :-)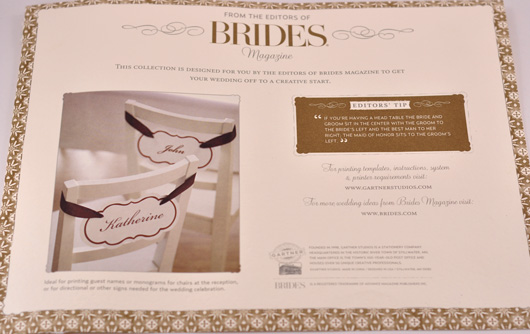 I'm showcasing the most beautiful calligraphy of Suzanne Cannon with Quietfire Design.   Can you believe she hand pens the sentiments before she commits them to rubber?  Well she does!  This was a quick venture for me, but I'll have another go at this beautiful sentiment again soon, it's called Remember That the Earth.  
SUPPLIES I USED
Stamps:   Quietfire Design – Remember That the Earth
Paper: Coredinations (Chocolate), Elements of Bride Seat Sign
Ink: Colorbox Pigment Ink – Brown
Accessories: Recollections Bling

Smooches blog friends – wishing you a glorious day, I'll be back soon!!