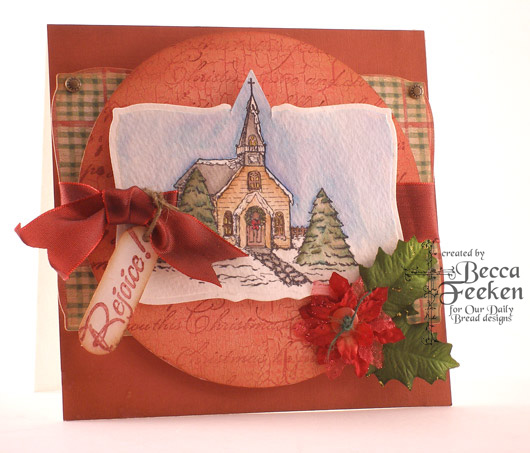 Isn't this little country church as charming as ever? It reminds me of a rural church I visited with grandmother as a little girl. More so, it reminds me of the little historic chapel in Virginia that I was married in exactly 26 years ago today. I still can't believe it myself, how blessed I am! Twenty six years ago I married my best friend and I still wake up next to him every morning. Nothing could have prepared me for the beautiful journey we'd take, how scared we would be and how tightly we'd hold on to each other. It almost seems like the years have flown by in the blink of an eye. I've learned many things in the 26 years but of the most important, I've learned that marriage takes work and cultivation just like a garden. Once the strong roots take hold, efforts bear fruit for years and years to come. I have savored every year of being married to the love of my life.
Whew…you probably wanted to hear a little bit about the card!!
This is one of the new releases from Our Daily Bread Designs – Worship the Lord. I am so taken with the Spellbinders Mega Curved Rectangles, they layer magnificently and will accommodate sizes up to 6"!! I cut the plaid design paper with the largest curved rectangle then went down two sizes for the next curved rectangle leaving room to nestle another shape in between. Because the steeple on the church was high, I didn't really want to increase a size because of all the extra white space I'd have at the top. So, I snipped the steeple then when cutting the die out, made sure to tuck the steeple extension on the wrong (non-cutting) side of then die when putting it through my Wizard. While coloring the church with aquapainter and reinkers, I held the die in place so that I could preserve a white border around the image. For the middle shape, I cut a 5 ¼ circle with my EK Success Circle Cutter out of the red crackled design paper and followed by overstamping with a script stamp. Lastly, all layers except the church were smudged with Vintage Photo Distress Ink. Hey, just so you know — you can make any text weight paper into cardstock by backing with a nice 90lb or 140lb watercolor paper. I did that with each of these design papers – mainly so that they would hold their shape when I popped them up and also to give good definition to the embossed edges.
Thanks so much for visiting with me today! I hope that as the holiday season unfolds, you savor the special things that will bear fruit for you in the years to come!
Card Recipe:
Stamps: Our Daily Bread Designs – Worship the Lord
Paper: Hobby Lobby – A Country Christmas, 90lb watercolor paper, 140 lb watercolor paper
Ink: Aged Mahogany Distress Ink, Vintage Photo Distress Ink, Black Brilliance
Accessories: Spellbinders Mega Curved Rectangle, McGill Word Punch, Ribbon, Brads, Prima Flowers