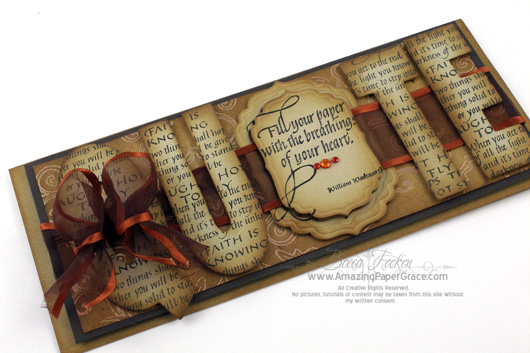 Do you know how hard it is to make something with the letter "Q"? Well actually it's not, only if you have a temporary mojo block like I did. Okay, I'll explain. I'm hosting the Tuesday challenge over at CreatedByHand. The best part of the challenge was that the challenge was assigned to me – I like it that way because it makes me stretch my artistic muscle and use my noggin'. The hard part of the challenge was to create something that would hopefully inspire people like me – who lurk – to go over and take a look and be inspired enough to come up with something to contribute. Since it is my week, I'm thowing down the gauntlet . . . I dare you to s-t-r-e-t-c-h :-)
If you'll look closely, my card spells the word "Quote". The "Q" is obscured just a little bit, it couldn't be helped, I just had to use ribbon (*wink*). The stamps used here are from Quietfire Design. Each letter is overstamped using the same stamp used on my card yesterday (When You Get to the End). Next I stamped the sentiment called Fill Your Paper, on my suggested letter "o" , which is the layered Spellbinders Labels Four. Everything is smudged with Antique Linen and Brushed Corduroy Distress Inks.
Card Recipe:

Stamps: Quietfire Design – Fill Your Paper, When You Get to the End
Paper: The Paper Company – Khaki, Bazzill, K & Co – Tim Coffee Autumn
Ink: Tuxedo Black Memento, Antique Linen Distress Ink, Brushed Corduroy Distress Ink
Accessories: Spellbinders Labels Four, Ribbon, Bling
As you know, I like all genres of stamps and challenge myself to use them. I'm left handed and tried my hand at calligraphy years ago and somehow patience was not on my side. I say that to say that I adore the stamps I'm working with, Suzanne hand letters each one of these designs – gosh, I only wish I could do that. Well to use them is a little bit of living vicariously. As you stamp and create, remember to go where your heart goes . . .
Okay, well that's my story today and I'm sticking to it – big wink*