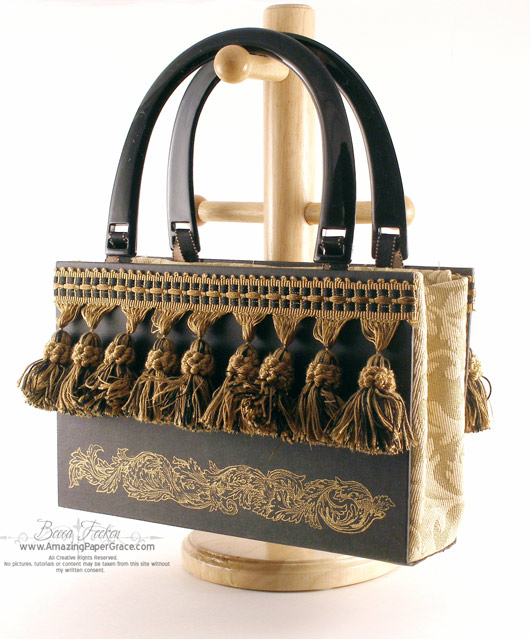 I've been a little bit quiet :-) I'm working on stuff and thought that while working I would share a project that I pulled together earlier this year to share as a Dirty Dozen project. This is a little purse I made from a hollowed out book cover to hold a set of cards that I made (those will be seen soon). I've decided this is one of my favorite repeatable projects. In other words it was easy enough to make that I can see making them for special occasions. In fact, I made another one recently using JustRite Stamps to hold my Christmas Card Log – it can be seen HERE. The one I'm showing today is actually the first one I made. As with most things, it gets much easier on subsequent tries :-)
I purchased the book at the Dollar Tree, I just held out for one that had a fairly thick spine. I stamped the lovely motif on the front using a Judikins Bolio stamps and embossed with gold embossing powder. After gutting the book, I created a gusset on each side and glued upholstery fabric to the inside. Before sealing everything down with red sticky tape, I glued loops to hold the plastic handles. What an occasion to trot out some of the tasseled trim from my stash – it's a little decadent but ya' gotta live a little, right?
Project Recipe:

Stamps: Judikins Bolio Stamp
Paper: None
Ink: Versamark and Gold Embossing Powder
Accessories:
Trim – Hobby Lobby, Fabric from my stash, purse handles from my stash, ribbon, red sticky tape, glue
Not one to reinvent the wheel – after I made my first I discovered that many have done similar projects. Here's one you can check out if you are inclined to try.
Until next time!! :-)