:34 My goodness, I've been sick.
For the life of me I don't know what it was, but I couldn't get up off of the couch for about 48 hours. My husband thought he could cheer me up by taking me to Hobby Lobby and even going inside with me. I found a good place to just perch but refused to spend money. He was beside himself because he knew something was terribly wrong. Well I'm all good now, and I think we will have to rerun that HL visit. :13
I'm back with a new card, and it looks very similar to something I did recently. It just so happens that when I did the first dress card, this is the test scrap I played around with before I did the "real" card (do you all do that too?) Then I was in Walmart recently and saw a card that had a similar sentiment – it had me rolling in the aisle. So I nabbed it for this card, admittedly cased, but only for personal use. The added bonus is I can submit it for Splitcoaststampers Sketch Challenge 170.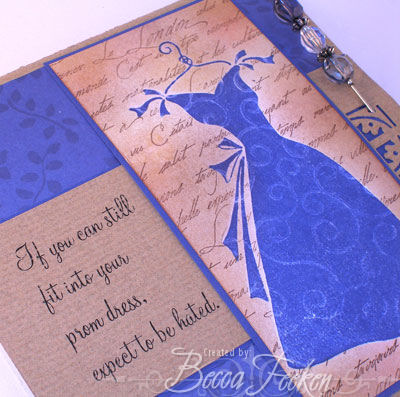 The above picture is the inside of the card.
Hmmmmm, it kinda starts out sounding wicked, but once you flip to the inside, it's alllllll goooood. Yep, a snarky card you can only send to your best bud girlfriends. Thanks for stopping by, I missed posting and hope to be back at it this week.
Supplies:
Stamps: Renaissance Art Stamps, Hero Arts
Paper: Bazzill, DP – ?
Ink: SU Not Quite Navy , SU Close to Cocoa, SU Cameo Coral, SU More Mustard
Accessories: Lasting Impression Brads, Making Memories Pin
Sentiment: Computer generated