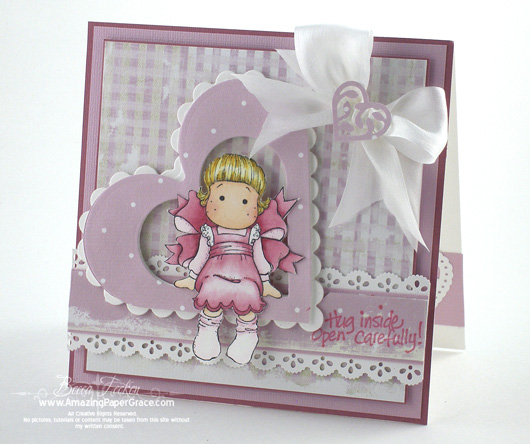 I have a sweet Magnolia to share with you today for the latest Magnolia-licious Blog Hop. Now if you arrived here from Sharon, then you are in the right place. If not, please head to the Magnolia-licious Highlights Blog to get started.

Our theme this month is Pretty in Pink! There will be all sorts of pink goodness to see today and in my case, just in time for Valentines Day. This sweet little urchin started out as a Christmas stamp, but she'll also work for Valentines Day, Wedding and Birthday – she is Magnolia Wrapped Tilda. I put her in pink but can't you just imagine her in white with glitter? Tilda is perched on Spellbinders™ Classic Hearts and Spellbinders™ Classic Scalloped Hearts. The punched heart on the bow is a Martha Stewart Punch as well as the eyelet lace border punch.
From here, you get to see the ultra talented Jacque – boy does she have a feast for your eyes!!

Card Recipe:
Stamps: Magnolia Wrapped Tilda
Paper: Magnolia Paper Pack, Bazzill
Ink: Colorbox Chalk Ink – Rouge
Accessories: Spellbinders Classic Hearts, Spellbinders Classic Scalloped Hearts, Martha Stewart Eyelet Lace Border Punch, Martha Stewart Heart Punch, Ribbon, Copic Markers

You know we couldn't do a blog hop without having some prizes right!! You can play along with our Pretty in Pink Challenge and submit a card to the Magnolia-licious Highlights site before January 31st. Be sure to check out the rules on the Magnolia-licious Highlights Blog. Good Luck and happy hopping!!