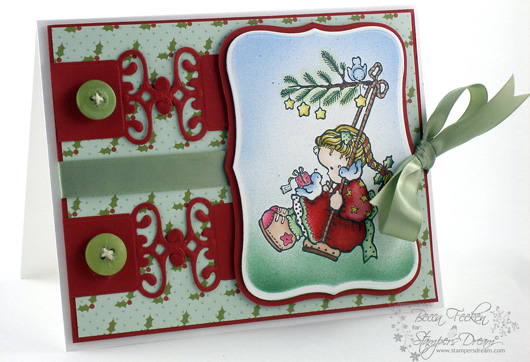 My word isn't this the cutest image? Well, this is vintage Penny Black – I know because I have a whole shelf full of them ;-) Although most of mine are discontinued I was thrilled to see Penny Black releasing this new stamp and several more of the sweet cherubic figures that are my favorite style from their offerings. Even better, they are in cling rubber!!! This image is called Winter Swing and Stamper's Dream is stocking all of the new Penny Black in cling Rubber.
My image is colored with Copic Markers. After coloring I cut the image out using Spellbinders Labels Eight. Leaving the image in the die template I masked the image and airbrushed in the background with the Copic Air Brush System. On the sides I used Spellbinders Fancy Tags for a decorative element.
One of the things I have always loved about Penny Black stamps was that on the index of the mount you received a colored version of the stamp. That way I could mimic their coloring and shading or go my own way. Well, when these were released in cling without a mount, I wondered how they were going to handle it. I was so pleased to see that they still include that colored picture in the packaging and these cling stamps have a black outline on the sticky side of the cling – first time I've ever seen that, but I like it!!

Card Recipe:
Stamps: Penny Black – Winter Swing (courtesy of Stampers Dream)
Paper: MME. The Paper Company
Ink: Tuxedo Black Memento
Accessories: Spellbinders Labels Eight, Spellbinders Fancy Tags, Copic Markers, Copic Airbrush System, Ribbon, Buttons
You must see what the other Stamper's Dream Design Team members are showing on Penny Black week.
Monday: Michelle, Amy and Denise
Tuesday: Tosh, Michelle and me
Wednesday: Laurie, Michelle and Denise
Thursday: Silke, Laurie and Michelle
Friday: Michelle, Tosh and Amy