Ok girlfriends, while we're admitting what we boo hoo to, I have an admission to make. Although I don't watch much television other than the news, every once in a while there are two commercials that come on that get. me. every. time. Those two commercials are the ones for the ASPCA with Sarah McLaughlin. They totally wreck me . . . my kids now spring for the remote control and make me look away. Too many times they have walked into the den to see me sitting there with saucer eyes. Sniff, thank goodness I'm a proud crier. Speaking of boo hooing, there's still a day left to leave a comment for the Blog Candy Encore HERE.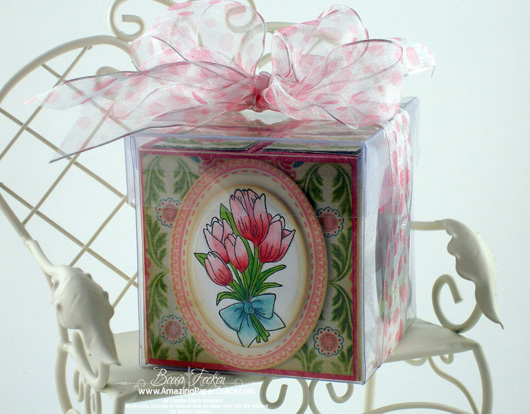 In the meantime I've created a new box to share; I call it a Peek-A-Boo Box. I wanted to be able to show what was inside the box and at the same time customize it with my JustRite Stamps. I started by creating a clear box to act as a sleeve and then the inner box that I could personalize, then I just jazzed it up a little bit with oval windows. On this box I used the pretty tulips from THIS to-die-for JustRite Set. For the oval windows and the oval medallions I used Spellbinders Classic Ovals LG.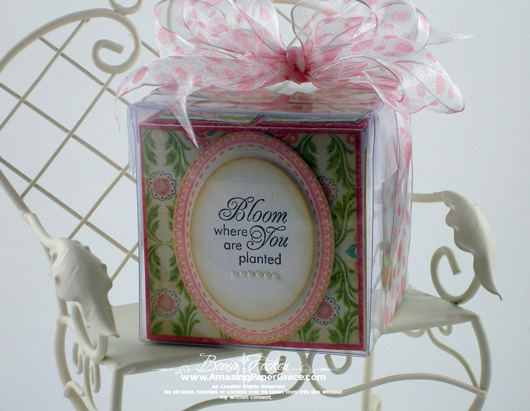 The front of the box features JustRite Breath of Spring Borders and Centers and the opposite side features JustRite Seeds of Kindness Borders and Centers. On the inside of the box I have four smaller clear boxes that contain scented tea lights. The top and bottom of the box is made using Spellbinders Fair Isle Pendant and then a strip of acetate forms the walls.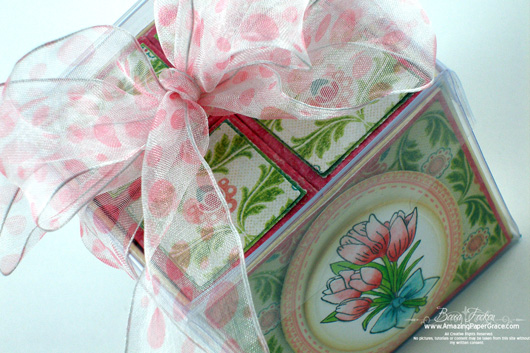 I cut motifs from my design paper to accent the tops of each small box using Spellbinders Classic Squares SM.


Here you can see the individual boxes a little bit better.
For the Copic Colors here's what I used. Yesterday I used lots of colors but today I wanted to specifically show that you can get very pleasing results on these line drawn images using just two of each color – the images are so flexible, easy and forgiving ;-)



Well, that's all for me today, I'm so enjoying reading your favorite tear-jerkers; I'm adding many to my movie list!