Today was the first day of school, yay!! I saw her off this morning at 6am and she's home now, and I already have an appointment with her guidance counselor… sheesh! I forgot how much effort it is to keep everybody on the same page when kids are in school. I would have had my post up earlier but mine was the typical house on the first day of school.
Today I'm sharing with you another sample from the newly release "Peace on Earth" set from Our Daily Bread Designs. The verse says "Peace I leave with you; my peace I give you. John 14:27" I am so taken with the serenity of this set so I wanted to try some tone-on-tone stamping with the gorgeous lion. It blended a little bit more than I wanted so I popped it out a bit by sketching over the embossed image with a white prismacolor pencil then wiping with a dry cloth. It put a little haze over the image and the ribbed paper really caught the white to show off texture. I know someone will ask, so I'll go ahead and share my serendipity moment — I used jumbo brads on each corner of the card because I wanted it to have a classy look. Imagine my delight when I popped in a single gold brad for a different looking element – I likey. Of course I had to top everything off with a bow!!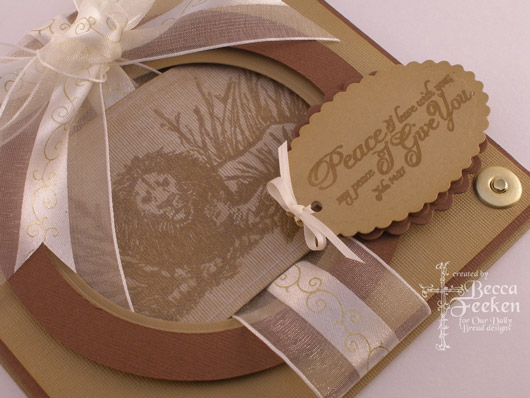 I had the most fabulous weekend resting at home with my family. Church on Sunday was a highlight with a wonderful sermon from our pastor that fills me and has given me lot of bounce in my step. Thank you for those who come again and again. I hope you glean something that will inspire you but know that the encouragement and kind word you so freely offer is a great treasure to me.
Supplies:
Stamps: Our Daily Bread Designs
Paper: Bazzill
Ink: Versamark
Accessories: Clear Embossing Powder, Nestabilities, EK Success Circle Cutter, Jumbo Eyelets, Gold Brads