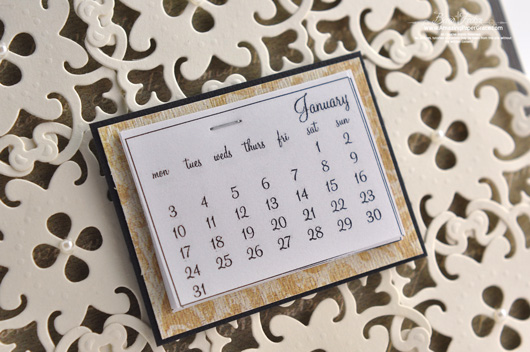 Poking my head in here quickly to share one piece of an ensemble I created using Spellbinders Parisian Accents Set.   Over the next week or so, I'll share additional pieces but this will be the first.  I was pleased as punch with this calendar and it's probably one of the easiest things I've made lately.


I had an 8″ x 8″ black canvas in my stash – white would have worked as well, but I went with what I had on hand.  Also out of my drawer I pulled out a cardboard easel with a sticky back (looks roughly like the cardboard on the back of a picture that allows it to stand upright on its own).  I cut a mat and design paper panel slightly smaller than the size of the canvas.  I then cut/emboss eight of the same piece from the Parisian Accents Set.  They easily link together on the north, south, east and west borders of the piece.  I secured them using small pieces of foam tape.   Somewhere on the internet (slacking on the job – I didn't write it down) I found these tiny calendars and printed them out.  I finished by mounting the calendar on a small panel of paper and mat in the center of the canvas.  That's it!

I hope you'll peek in later as I post these . . . each piece is so different and so easy!!