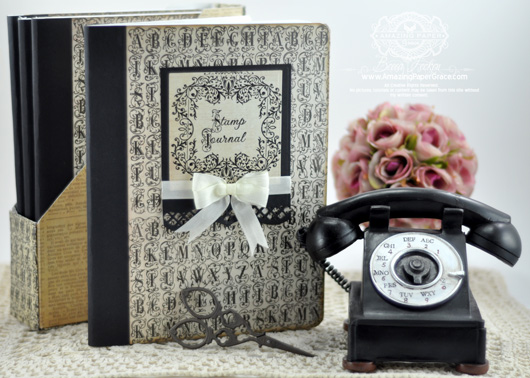 Good morning blog friends, I have a couple of projects to share today with my new sets from JustRite Papercrafts.  If you missed my post last week I have two new sets Filigree Journal Covers and Mix and Match Sentiments.  This project is tagged as quick and easy on my calendar for frugal Christmas gifts and (snicker) I have one down for me.  I have gobs of journals sitting around, but none of them match and for the life of me I can never remember which one I use for what.  So, I made a matched set of journals using Filigree Journal Covers – of course the Filigree frame works well on cards too.  Coincidentally, it matches the other filigree stamps I designed earlier.  The Vintage Alphabet Soup Background works out well as a background on the journal covers because it's easy to line up the non-overlapping background for a continuous pattern.  These will be easy to find in a crafting frenzy – one is titled Stamp Journal, Technique Journal, Quote Journal and Ink Journal.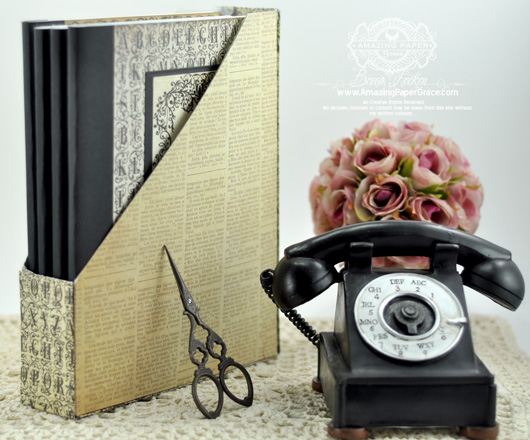 I purchased four economical composition notebooks from Walmart for $1.50 each and covered them with the stamped paper on the front, back and solid paper on the spine.  For the holder, I recycled a cereal box and covered the sides with paper and used stamped panels for the short sides of the box.  The Filigree Frame is stamped on a square cut using Spellbinders™ Classic Squares LG and mounted on a panel cut using Spellbinders™ 5×7 Matting Basics A and the bottom shaped using Spellbinders™ A2 Bracket Borders One.  The books are roughly 7.5″ x 9.5″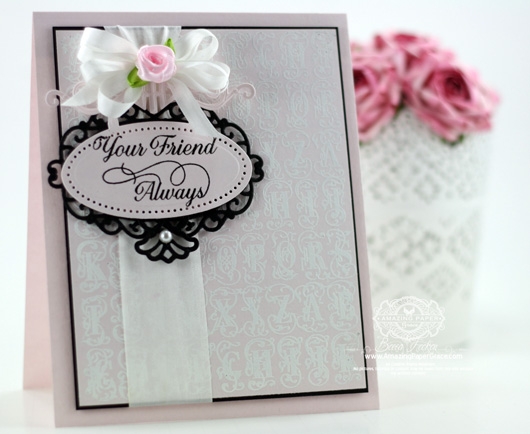 My next card is very simple :-)  Starting with a pink card base I layered the Vintage Alphabet Soup Background stamped onto pink cardstock onto a black panel.  With ribbons in place, I cut two of the oval frame motifs from Spellbinders™ Jewel Framed Sentiments and cut each of the motifs in half so that I could make a symmetrical horizontal frame.  On top of the frame I layered one of the sweet new Die D-Lites™ called Ornamental Tags Three.   To break up some of the roundness and pull the pop of black down into the card I picked out a small embellishment piece from Spellbinders™ Vintage Lace Motifs.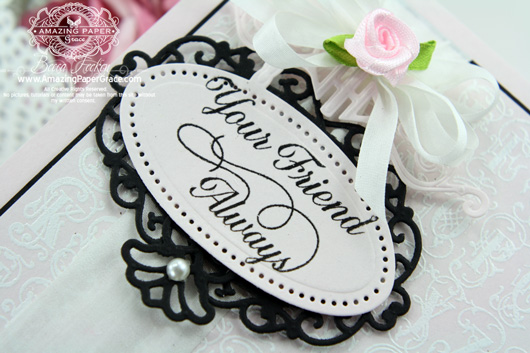 I pulled two phrases from  Mix and Match Sentiments for a small two line sentiment.  The card size is 5″ x 6.5″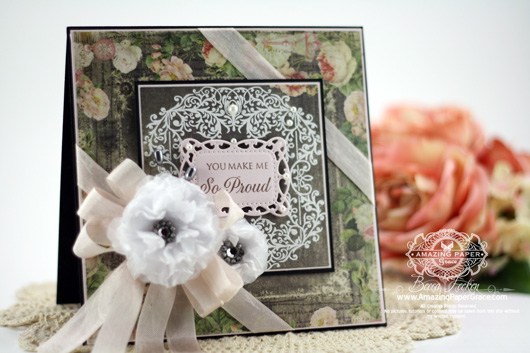 My last card combines the Filigree Journal Covers with some Mix and Match Sentiments.  I used Spellbinders™ Classic Squares LG to cut the panel I stamped the frame on then stamped the sentiment on the smallest motif from Spellbinders™ Timeless Rectangles.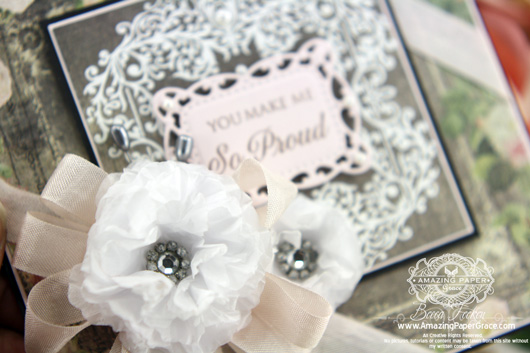 The fluffy white flowers are made using Spellbinders™ Rose Creations and the gift wrap type of tissue paper.  The card is 6″ x 6″.
CRAFT SUPPLIES I USED
Rubber Stamps: JustRite Papercrafts - Filigree Journal Covers, Mix and Match Sentiments
Craft Paper: TPC Black, EK Success Pink, Prima Tea Thyme
Ink:  Colorbox Pigment – Cocoa
Accessories:   Spellbinders™ Classic Squares LG, Spellbinders™ Timeless Rectangles, Spellbinders™ Rose Creations, Seam Binding, Corsage Pins, Recollections Pearls

,

Becca's Bow Maker, Grand Calibur Die Cut Machine

The other ladies on the design team have made some truly wonderful creations from the new sets. I hope you'll pop by and see them.  Don't forget, there is a JustRite Spring Fling Sale  going on until May 12th.  Have a truly wonderful day!
JustRite Inspiration • Becca Feeken • Sharon Harnist  • Kathy Jones • Darsie Bruno • Marisa Job • Eva Dobilas • Barb Schram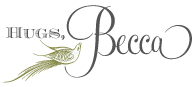 Find more like this: *5 x 7 Matting Basics A, *A2 Bracket Borders One, *Classic Squares LG, -Gifts, :Black, :Brown, JustRite Stampers, Spellbinders Die Templates, |Vintage
I love hearing from you!