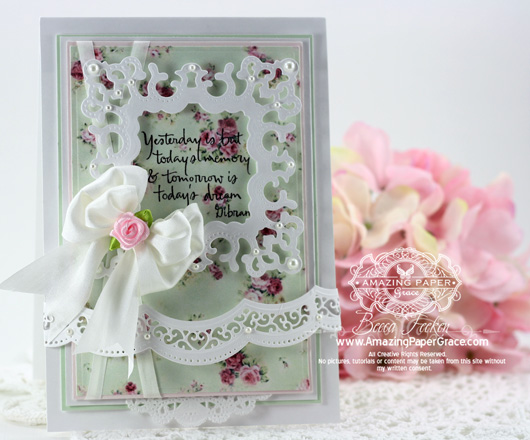 She turned her can'ts into cans and her dreams into plans.  Kobi Yamada   Doesn't that just make you take in a breath of fresh air and know that all is good in the world? Always on the look out for inspiration, it can be found everywhere.  I'm a lover of scripture and a lover of inspirational quotes – they are something that can make the day turn on a dime and put a skip in your step.   This upbeat quote comes straight from one of my Pinterest boards – gotta love that, I'm always discovering something totally awesome there that makes me smile.  Speaking of smiling,  I wanted to pop in today and let you know that this week I'm going to have some blog candy – you'll be tickled when you see what it is.  In the meantime another very feminine card, because you know I'm just in that kind of mood.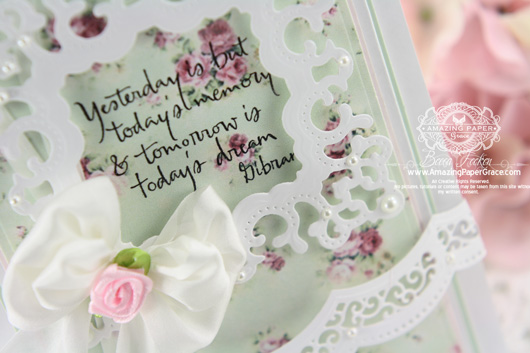 I set up the layers using Spellbinders® Matting Basics B and topped it off with a border cut from Spellbinders® A2 Scallop Border One.   The pretty filigree square is made using Spellbinders® Ornate Squares and it perfectly frames the sentiment I chose from Life Affirming, a set from Wordsworth.  It says Yesterday is but today's memory and tomorrow is today's dream.
So to recap the layers I used, I started with a card base 7-1/8″ x 5-1/8″, foam tape (optional), green matting layer cut using Spellbinders Matting Basics B measuring 6-5/8″ x 4-5/8″,  white layer 6-1/2″ x 4-1/2″, foam tape (optional), pink matting layer 6-1/4″ x 4-1/4″, design paper layer cut using Spellbinders Matting Basics B measuring 6-1/8″ x 4-1/8″, A2 Scallop Border One.  Attache ribbons and sentiment on appropriate layer.
CRAFT SUPPLIES I USED
Rubber Stamps: Wordsworth – Life Affirming
Craft Paper: Amuse – Pistaschio, ByDigital - Romantic Paper Roses, Georgia Pacific – White, EK Success Pink Viburnum
Ink:  Versafine Onyx Black and clear embossing powder
Accessories:  Spellbinders® Matting Basics B,  Spellbinders® A2 Scallop Border One, Spellbinders® Ornate Squares, May Arts Silk Ribbon, Recollections 
Pearls, doily, ribbon flower,  Becca's Bow Maker,  Grand Calibur Die Cut Machine
Earlier today I received an email from one of our friends here, a reader from Oklahoma asking for prayers for her state.  Jana you got it!!  The voice of one joins many – we'll all keep you and your neighbors covered :-)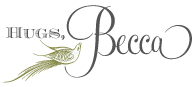 Find more like this: *5 x 7 Matting Basics B, *A2 Scalloped Borders One, *Ornate Squares, -Encouragement, -For A Friend, :Green, :White, Double Bow, Wordsworth, |Many Layers
I love hearing from you!