Hello there!! JustRite Stampers is this weeks sponsor for the sketch challenge over at CPS – with CPS 166. It's an absolute breath of fresh air because of its simplicity. My card features stamps from the set called the Hope Borders and Centers Set 2" Square. Since the sketch calls for a small square shape it was perfect for sentiments and borders stamped with the 2" wooden stamper.
For mine, I opted to create a border with two layers of a Martha Stewart punch called Gothic Layered Arches then the top layers are Spellbinders Big Scalloped Squares SM #3 and a frame cut with Classic Squares SM #3 and Classic Squares LG #4. On the left side I decided to do something different for me and run three ribbons across with the petite bows staggered.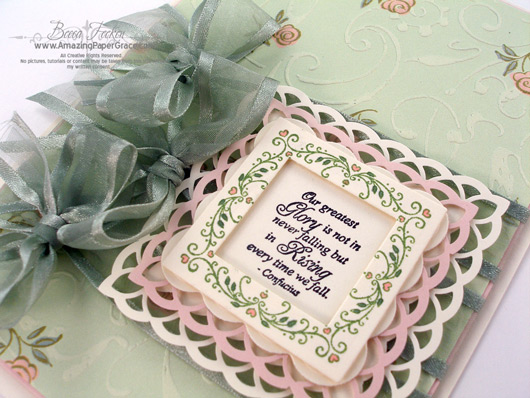 There are still several days left to join in on the sketch challenge and as always, your take on this simple sketch just might land you some goodies. You can check out the details and see the sketch HERE.
Wishing you a glorious day!
ETA: Hanging head in shame . .. I wrote down the wrong punch name and you all have graciously corrected me. I've marked out Gothic and corrected it to Layered. Sorry for any inconvenience. I for one will do a happy dance the day that manufacturers actually put the name on the punch. Yes, I know I could do it, but I'd rather be crafting ;-)