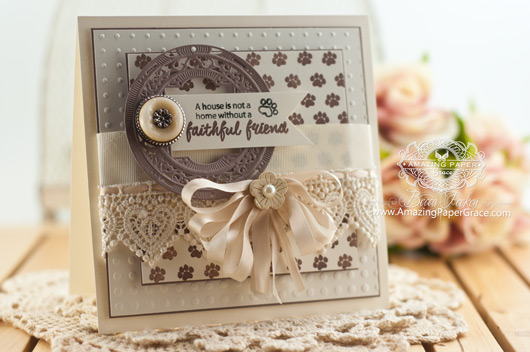 What's this stuff about the humans getting all the cards?  Exactly!  I was tickled beyond belief when this month JustRite Papercraft introduced pet centered stamps.  My two main squeezes Bailey (remember Bailey? you can see her HERE) and Kira are gonna be happy girls.  There's a goodie box on the way to them with their name and a cute little card to boot!!  This project simply made me smile and I know those girls are gonna go crazy when the mailman brings the box.  (Anyone else have a dog that knows there are treats in the bag before you even bring them out?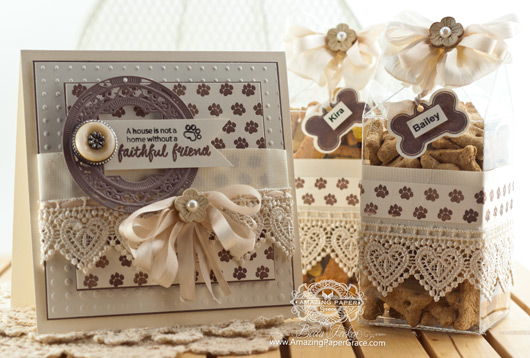 For my 5-1/2″ square card I used Spellbinders Graduated Dots for the embossed background.  In addition I wanted a stamped background so I used the paw prints from Pet Sympathy Sentiments.  After spanning the card with grosgrain ribbon and lace I embossed/cut Spellbinders Gold Majesty Circles and threaded in a hand cut strip with a notched end that's stamped with a sentiment from Furry Friends.  Then the little treat boxes that are actually small milk cartons.  I cut them with a steel rule die (discontinued from Dayco) and clear acetate.  Lace, ribbon, bows and then that adorable little bone from the Furry Friends set finished up the things going off in my care package.
You can see the entire JustRite Papercraft release HERE.  And don't forget, the other ladies listed below have worked up samples for the current release too!
Thanks so much for stopping by.  Bless you all and have a wonderful Easter!