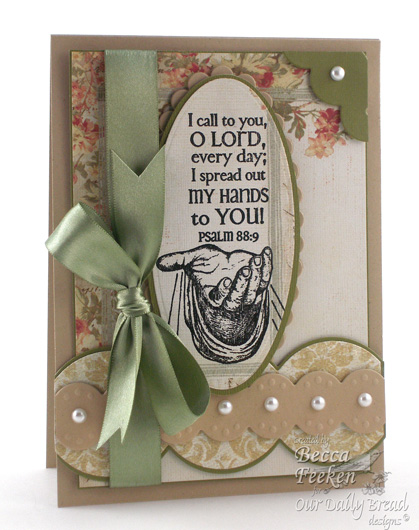 Happy National Scrapbooking Day and hello everyone! Welcome to Our Daily Bread Designs May Release Blog Hop! The hop will run from May 1 through Monday, May 3 at 8PM Eastern Time. The winners will be announced on the ODBD blog on Tues. May 4. If you are stopping by to find out the winner for my blog candy, read down to the bottom of my post.

We have a special "May Day" blog hop for you this month! Do you remember this sweet New England tradition of making "May Baskets" for neighbors and friends? You'd fill them with flowers or other little gifts, and then go hang them on their doorknob, knock or ring the bell, and run and hide until they had found their basket. It was such a fun "giving" tradition! Some still carry on this tradition, and others are trying to revive it. So for our hop, we are going to collect flowers from each designer to fill our May basket! If you got here from Dawn's Blog, you are in the right place! If not, you might want to go to the ODBD Blog and start from there so you don't miss anyone!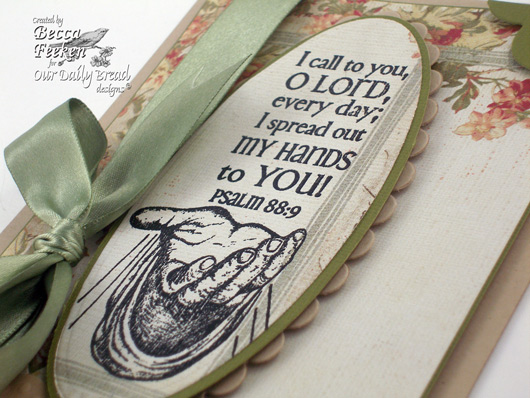 There will be three winners for this hop. Each winner will receive a $15.00 store credit toward stamps at the Our Daily Bread designs store and here is what you need to do to qualify to win:
1. Hop from blog to blog, leaving a comment and collecting the flower that designer is giving away.
2. Return to the ODBD blog and leave a comment that you completed the hop and left comments for each designer.
3. Send an email to gnywening@yahoo.com giving her the names of the designers and the flowers you collected.

If for any reason you get lost along the way, just return to the ODBD Blog for the list of names. Remember, If you were unable to leave a comment for any one, just state their name in this comment and you will still be entered into the drawing. This is meant to be fun, not stressful.
Now on to my card details:
For my card I used one of the new sets called Gods Hands; what a supremely powerful stamp. I opted not to color in the image this time because I think the starkness brings it out of the page.
Get ready to be stunned, from here you will hop to Kathy Jones Blog, but before you leave, here is the flower I'm giving you: ASTERS
Oh by the way, were you one of the lovely people who contributed memories to my "Tell Me 'Bout the Good Ole Days" Blog Candy? The comments were amazing and we have a winner. Using Random.org I picked the number 577.
That corresponds with Linda Boucheron who left this comment:

Having grown up on a farm, most of my childhood"good old days" memories involve the outdoors and what seemed to be lots of hard work!! Responsibility starts young on a farm and I had my share…..chickens to feed, calves to take care of, haying, milking , gardening to help with ,etc…but along with the work was the fun…horses to ride in the fields, streams to splash in to cool off, hills to sled in the winter…gardens to find fresh vegetable "treats' in, long bike rides ( on roads that we didn't worry about strangers or danger!!), berry picking with some for the bucket and some for me……
What I always felt was a hard childhood was such a good foundation for my 'real life'!!…something I worked very hard to instill in my own two boys when I grew up and moved away from the farm!!
Ahhhh…the good old days!!
Linda, please reach out to me on my contact page to let me know your address and I'll get these items boxed up and sent out in a jiffy. You know the routine. If I don't hear anything in 48 hours, then back to random.org to pick another name.
Thanks to all who helped me reminisce about the good ole days. Regardless of where you live or if you are young or old, we keep our memories, by talking about them, passing them on and putting them down for the ages to remember. The past is to be treasured, today is amazing to embrace and the future is ever so bright. Thanks for contributing!!