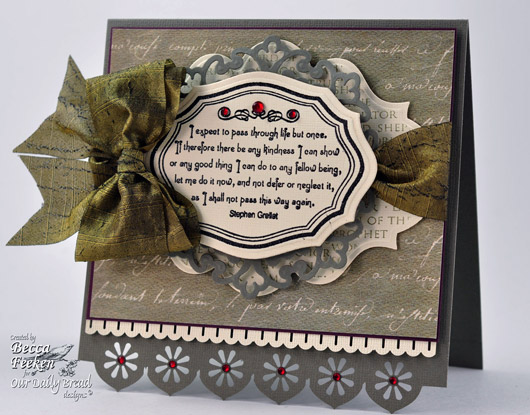 Let me just share with you that March is a very special month at Our Daily Bread Designs.  As an anniversary month, ODBD will be having a very special celebration during the second week of the month.  If you've visited during that time frame, you know about the special sets that are released and by now you are already waiting with baited breath.  If you haven't visited during the anniversary hop and celebration before, then you are truly in for a treat.  This is a date that I look forward to all year long and all the ODBD teams have been very involved behind the scenes, creating.  The sets you'll be seeing are my fav ODBD sets each year.  Please save the date – there will be contests and giveaways during the week of March 13th through March 19th.  If you are busy that week, the day to be sitting in your chair waiting for the posts to go live is Thursday, March 17th, which is the Three Year Anniversary for ODBD.  Stay tuned!!

Turning our attention back to to today, welcome to Our Daily Bread Designs March Release Blog Hop!  If you made your way here from Angela Crockett you are in the right place!  If not, you might want to go to the Our Daily Bread Designs Blog and start from there so you don't miss anyone! There will be three fabulous prizes this month: if you are one of the lucky winners, you'll get a Flower Corner/Tag set or if you are the grand prize winner, you will get the Bread Basket Bundle. The prizes are hidden on various blogs along the hop, none of us know which ones, so it is important that you visit and comment on each one.
The Hop will run March 1st at 8am Eastern and will end at 8pm Eastern March 2nd. The winners will be randomly selected from the commenters that complete the hop and answer the question posed on the ODBD Blog in their comment on that Blog.  Winners will be announced on the ODBD Blog on March 3rd.
So here's what you need to do to be in the running:
1. Leave a comment for each of the designers in the hop. Just in case you get stuck, remember the entire list is posted on the ODBD Blog.
2. Leave a comment on the ODBD Blog that you completed the blog hop (make a note if there's someone's blog that wouldn't take a comment).  Be sure to answer the Blog Hop question you find there :-)
3. Cross your fingers that one of the bloggers who have the hidden prizes pick you!! Be sure to check the ODBD Blog on March 3rd to see if you won!!
For my card today I'm using so many of my fav items from this release.  I used the brand new custom labels die paired with a sentiment from the Eternity set.  My intent is that this be a thank you for your kindness card so basically that's what it will say on the inside.  The Custom ODBD Labels One is absolutely dreamy – it comes with that snazzy frame so you just line it all up and cut it out!!
I layered a medallion made using Spellbinders Labels Twenty on the bottom (overstamped with He Shall Be Called), next Spellbinders Parisian Motifs followed by the ODBD Custom Labels One die.  The Parisian Motifs gives me a loop to thread my ribbon through.   I went a different route from my usual and used ruby gems instead of pearls.  I love them all!!

It is time for me to pass you along to the next person on the list, the talented and sweet Julie Warner!!  You will be dazzled and amazed by her creation.  Best of luck to you as you make your way along the hop!  It's all about today!!