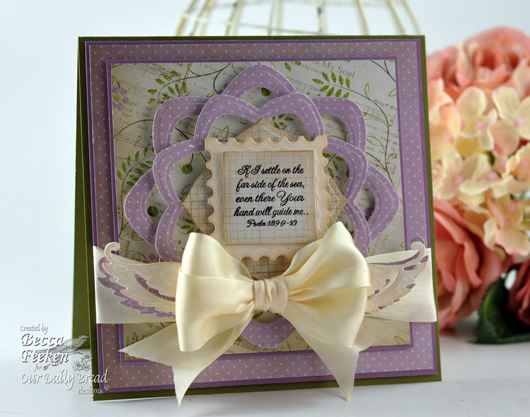 Good morning blog friends!!!  Welcome to the Our Daily Bread Designs February Release Blog Hop!  Now, if you got here from Grace's amazing blog, you are in the right place!  If not, you might want to start at the Our Daily Bread Designs Blog and hop from there!  If you encounter any broken links – the entire hop list is posted on the ODBD Blog :-) There are lots of goodies in store for you with the new release – you can see them all HERE.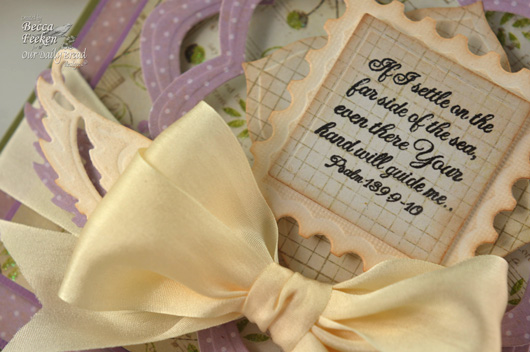 For my card today I thought to touch purple again.  I have to say that purple is growing on me :-)  This is a little bit of an unconventional card, but I wanted to use the new wings from Spellbinders™ Wings of Hope as an embellishment on my bow.  For the focal point on the card I used Spellbinders™ Grand Dahlia and in the center I layered Spellbinders™ Labels Twenty Four, added Spellbinders™ Postage Stamp then added the sentiment cut with  Spellbinders™ Classic Rectangles LG.  I love to overstamp, so I overstamped the new Our Daily Bread Designs background stamp called It Is Well With My Soul music background on top of my design paper.  Then for my sentiment I used a small one from The Sea.
Hop Particulars:
The Hop will run from 8:00 am Eastern Time on February 1st until 8:00 pm Eastern Time on February 2nd. The winners will be announced on the ODBD Blog on February 3rd.  For this special event, there will be FOUR PRIZES  – a free set of your choice of ODBD stamps and the big prize is a Bread Basket Bundle!
How to Enter the Drawing:
*Leave comments for each designer on each blog.
*Return to the ODBD Blog and leave a comment, telling us you completed the hop and there's a question for you to answer.
*Note any blogs you were unable to comment on.

Your Next Stop:
Lots of great eye candy to see today!!  To move on, your next stop is with my super sweet design teammate Chris Olsen!
Yesterday someone pointed out to me that a team was at the Spellbinders™ booth at CHA taping a show and they were showing off the crown that I made as a part of the blog frenzy.  When I shot pictures, I used red velvet as a backdrop, I wanted to give it an air of richness, but I'm not really sure I accomplished that.  Anyways, if you want to see how the crown really looks, check out this 1 minute video over at Paperclipping.com.  Don't tarry though, there are so many good CHA videos over there.  I wound up checking out the new products and now it's too late to turn the want monster off, lol!!   Thanks so much for stopping by today.  I'll see you soon!!