It's sew wonderful to welcome you to the Our Daily Bread Designs August Release Blog Hop!  We've all been in stitches in the background, working up samples to introduce this months offering of stamps.   All the stamps follow a theme and there are matching sentiments – there's much variety in this month's release that range from cardmaking If you feel the same, you'll love the release this month – you can see them HERE.  You'll be able to see that there are a lot of seamstresses in the mix today.   I sew and this is such a welcome addition to the stash!! Now, if you got here from Grace's fabulous blog, you are in the right place!  If not, you might want to start at the Our Daily Bread Designs Blog and hop from there! If you encounter any broken links – the entire hop list is posted on the ODBD Blog :-)
For my project today I wanted to do a gift item, so I made some Spools of Wisdom.  I found the little box and wooden spools at Michaels and in Joann's found some finished edge seam binding.  I stamped some the new release sentiments on the seam binding using my stampamajig.  Then adhered the end of the binding to the spool with glue and wound it up.  I finished off with a button and some linen thread so that the ends could be secured neatly.  Then some small decoration for the box – all with a vintage feel.  I've had this project on my mind for quite a while, so I was tickled to see sewing items in this release – it helped me theme out the entire gift!!  As you move on, for the hop particulars be sure to read my entire post, and if you leave a comment here to enter the contest for prizes, please remember that comments entered on my blog may not appear immediately.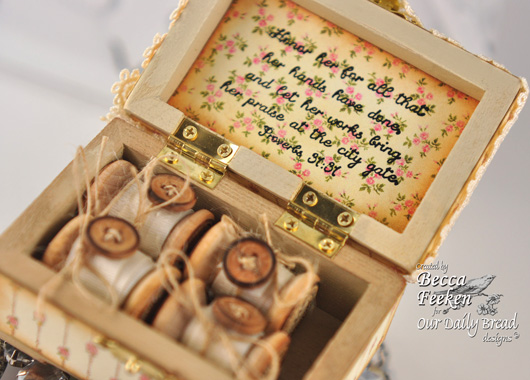 Here are the spools in the box, all tied up.

I was even able to find labels to go on the end of the spools – that simply made my heart sing!!
SUPPLIES I USED
Stamps: Our Daily Bread Designs – Sew Special, Pincushion Tag Set, Weave in Faith, Quilter, Sewn with Love
Paper: Crafty Secrets Digital Paper
Ink: Antique Linen Distress Ink, Brushed Corduroy Distress Ink, Vintage Photo Distress Ink, Versafine Onyx Black
Accessories:Seam Binding, wooden spools, wooden box, paint, buttons, seam binding, linen thread, gold pen, ribbon



So many of the sets this month lend themselves to being stamped out in a linear fashion like this but the sentiment used above from the Full of Grace – Quilter is by far the easiest.  The bold type and double spaced lines made me start with this one and build my confidence :-)
Hop Particulars:
The Hop will run from 8:00 am Eastern Time on August 1st until 8:00 pm Eastern Time on August 2nd.  The winners will be announced on the ODBD Blog on August 3rd.  For this special event, there will be FIVE PRIZES.  Each winner will get a $20.00 Gift Certificate redeemable within six months of the issue date for stamps :-)

How to Enter the Drawing:
*Leave comments for each designer on each blog.
*Return to the ODBD Blog and leave a comment, telling us you completed the hop
*Note any blogs you were unable to comment on.

Your Next Stop:
To move on, your next stop is with my the super talented Angie Crockett!!
Thanks so much for stopping by blog friends!! Good luck!!