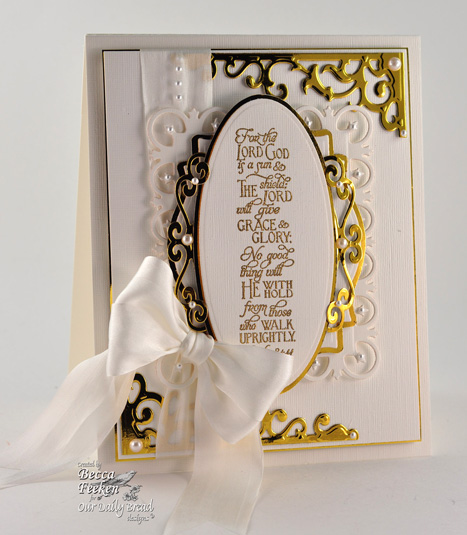 Welcome to the Our Daily Bread Designs Third Anniversary Release Blog Hop!   If you got here from Grace Nywening's fabulous blog, you are in the right place!   If not, you might want to start at the Our Daily Bread Designs Blog and hop from there!
Every year Our Daily Bread Designs take the scriptures that all the Designers submit and combine them into several beautiful anniversary scripture sets. These are my most favorite sets and they stay right on the edge of my desk as the words cover every card occasion you could imagine. I think I wait all year for this and the reveal is simply beautiful. Behind the scenes we all swoon the first time we see them!! Well, now we can show them to you. I think it's extra special when we see the scripture we've each picked made into a finished stamp. Mine is Psalm 84:11 and is one of six scripture stamps in Scripture Collection 6.  Of course, the words are extra special to me and have so helped me in my journey over the past 6 months.
For my card I decided to go dressy.  The occasion could be a wedding, confirmation, christening or many other events.  I chose gold, white and pearls for the regal feel and I thought it went well with the scripture.  I used Spellbinders Elegant Posts, Spellbinders Labels Eighteen, Spellbinders Fleur de Lis Rectangles and Spellbinders Mega Ovals LG and Spellbinders Fancy Tags Two in addition to my sentiment from Scripture Collection 6.   Below you will find all the particulars for the hop and the prizes.
Hop Particulars:
The Hop will run from 8:00 am EST on March 17th until 8:00 pm EST on March 18th. The winners will be announced on the ODBD Blog on Saturday, March 19th along with the Shining the Light winners and challenge.  For this special event, there will be SIX PRIZES of One Free Set, and ONE GRAND PRIZE of the Bread Basket Bundle (All 3 Anniversary Sets)
How to Enter the Drawing:
*Leave comments for each designer on each blog.
*Return to the ODBD Blog and leave a comment, telling us you completed the hop
*Note any blogs you were unable to comment on.
*Answer the question on the ODBD blog
One More Way to Win:
Before I send you on your way, I want to tell you that we do have one more exciting way you can win during this Special Anniversary Celebration!  Announcing our Second Customer Favorites Contest!   We will be taking submissions of favorite verses for a card until March 31st at 11:59pm EST.   There is a special post on the ODBD Blog and a special link to it in the right side bar so you can easily find it through the rest of this month.  Simply read and follow the rules, and submit the verse you'd most like to see on a card.  If your verse is selected you will receive the set free but wait, there's more — just have a read at THIS post for all the details!
Your Next Stop:
Now from here hop on over to Angie Crockett.  You will so love the verse she picked as well as the fabulous card she designed to go with it!!
Thanks so much for stopping by.  Don't forget to enter so that you can win some of the fabulous prizes!!  See you soon!!