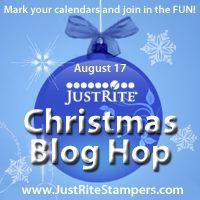 Woohoo, do we have a mega blog hop cooked up for you today!!  You are in for all kinds of Christmas goodness :)  Don't forget that there are over 30 bloggers who want to show you their spin on a JustRite Christmas.   JustRite has released six new sets in plenty of time to get your Christmas stamping done.  You might just want to pop over and have a peek at them HERE and then come back to continue along the hop (*wink).   I just love the different art, different sizes and different shapes between sets – I sure didn't know which set to get started with they're all so cute.
Today I'm sharing a set of ornaments.  I find that the JustRite round series of stamps lend themselves perfectly to custom round ornaments.  Each ornament is dual sided with the same image on both sides.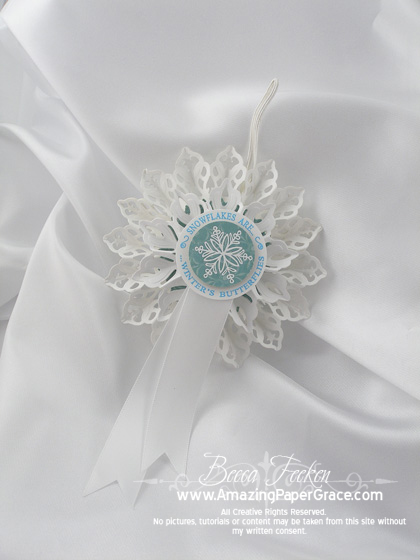 As the base for the ornament I'm using a ribbon spool (I never throw those out).  These ribbon spools are from the American Art small spools that I normally get at Michaels.  I found that they are the perfect size when using JustRite 1 5/8″ stamps and the spool is large enough that I still have room for a border.  I've dolled them up a little bit with some Spellbinders.  You know me, I love to take the borders and accordian fold them – with the help of Zip Dry glue I found it was an easy task to lay down a little bit of glue then secure the frill then make my way around the spool adding more glue.  Before adding anything though I punched a hole in the spool and took a loop of cording, knotted it and inserted it through the center hole and up through the top of the spool so that I would have something to dangle the ornament by. 
Ornament Recipe:

Stamps: 

JustRite Merry Little Christmas Centers and Borders


Paper:  Bazzill and The Paper Company
Ink:  (Merry Christmas – Versamark and Gold EP, Snowflake – SU Tempting Turquoise, Candy Cane – SU Real Red)
Accessories:  1 1/2″ Paper Shapers Punch, 1 1/4″ Paper Shapers Punch, Ribbon, Cord, Merry Christmas Ornament –
Spellbinders Grand 12″ Classic Lace Border
, 
Spellbinders In Spades Borderabilities
,
Spellbinders Petite Scallops Small
, Snowflake Ornament –
Spellbinders Grand 12″ Classic Lace Border
,
Spellbinders Fleur de Lis Borderabilities
,
Spellbinders Pinking Circles Large
, Candy Cane Ornament –
Spellbinders Grand 12″ Classic Lace Border,
Spellbinders Large Classic Inverted Scalloped Circles Large
,
Spellbinders Renaissance Hearts Borderabilities
You won't want to miss any of these fabulous designers who have some special Christmas goodies to share :)
JustRite Stampers-Blog
Becca Feeken (that's me)
Sankari Wegman
Sharon Johnson
Kazan Clark
Sharon Harnist
Laura Davis
Debbie Olson
Michelle Woerner
Taylor Van Bruggen
Jenn Balcer
Michelle Wooderson
Lori Craig
Lauren Meader
Beate Johns
Barb Schram
Kimberly Crawford
Michele Kovack
Jami Bova
Kellie Fortin
Jennifer Buck
Heidi Blankenship
Angela Barkhouse
Lisa Somerville
Gerrie Johnnic
Kathy Jones
Debbie Seyer
Kim Sonksen
Terre Fry
Sheryl Dickinson
Bonnie Sharp
Mary Pfaff
Holly Simoni
Angela Robledo