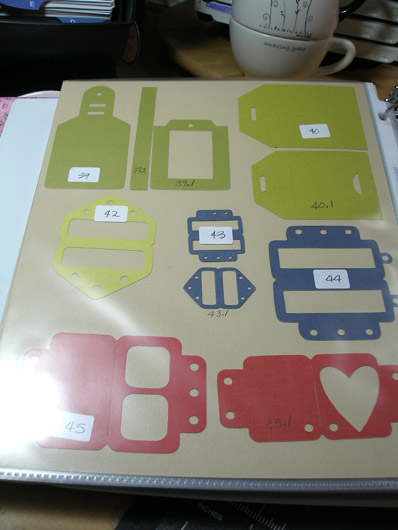 I wanted to share a couple of pictures with you so that you can see one of the tasks we finished during my mothers visit. In fact, she did quite a bit of the work. I have quite a few of the original sizzix die cuts – you know, the bulky ones – and because I had to search through each an every one to find what I wanted to use, I rarely ventured there.
Mom ran each of them through my Cuttlebug to get a sample and glued them down to paper, numbered them and filed in sheet protectors in a notebook.
We put the corresponding number on the spine of the die so that it can be located easily. The reference book is kept at my desk and when I need to find a particular die now, I can get to it in seconds instead of the hunting for considerably longer .
I know this seems so simple, but I could never find the time to do it. It was a great investment and I have many similar projects like this to tackle. One by one,…. Part of the triumph of finishing, is getting to share.
Thanks for stopping by.