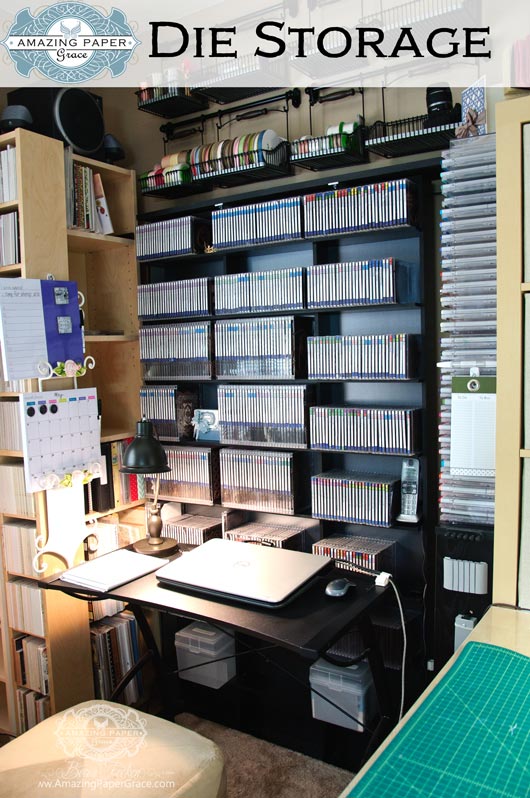 This is long overdue!  I promised quite some time ago that I would share how and where I store my dies. I have different types of dies, but right now the ones I use most are the thin metal dies.  I've tried a number of storage situations but knowing myself, I work best when things are within an arms reach and if they are organized and labelled.  I found a large Media Rack and installed (secured to the wall) on the left side of my crafting desk behind my computer.   I love this because it takes no desk space!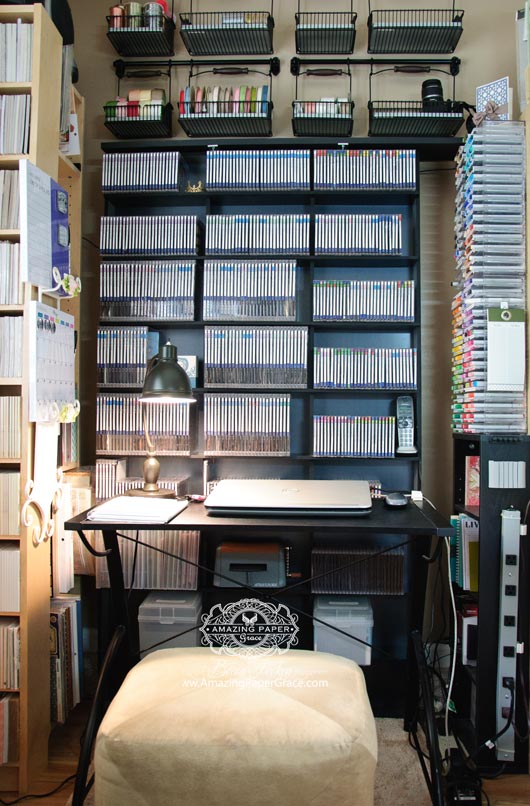 I've learned that if there's something I have to get up to get for, if it's something I have to dig through or if it is still in a package – I'm not likely to use it.  That's my truth :-).  I've said before, I tend to be a die-centric paper crafter – in other words the die comes first then the stamps, paper and colors fall in after that.   My other 'truth' is that it's easy to lose die pieces when I'm creating. For that reason, each die set has it's own container and once done, all the pieces are put back in and that set is put away.  When I'm creating I have a shelf (see below) where I put the sets I'm currently using and because each set has magnet in the case – if something's missing – I can tell right away (yes, this happens all the time).  Lol, you can see how worn my labels are – this is a system that has grown with me over the years and the dies get a lot of use :-)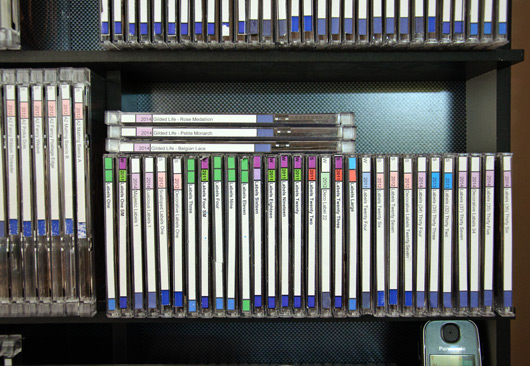 Random Notes:
I store large die sets in Clear DVD Cases and small sets in Clear CD Cases with magnetic sheets on one or both sides..  Extra large dies are stored in a binder (see my thoughts on that below).  I have several groupings – these make sense to my workflow and might not make work with your workflow but it helps me locate what I need:  My groups are Labels, Shapes, Card Creator, Accents and Motifs, Flowers, Borders, Expandables, D'Lites, In'Spires, Cut-Tuck-Fold and several other smaller subsets.  The colors on my labels have to do with the year the die was released because I try to use new dies along with old dies and it helps me locate them quickly.
The media rack was purchased at Best Buy here and while it is no longer available in store, it is available online.  These racks can be found in many stores and other locations online.  If I can open up enough wall space in my craft room, I'm looking to add a similar rack to include my stamps :-)
Look around, there are tons of great ways to store dies, it just happens that this is the best way for me.  I found that binders were too heavy for me to lift (I still store my Grand Dies in binders for the few occasions that I use them).  I also found that if my thin dies were not contained, that they were lost too easily.  Lastly, I found I could not keep them in original package because when it comes down to getting them out, they were not getting used.
 Giveaway:
I've been a longtime customer of TapeOnline which is where I get all my DVD and CD cases.  They have graciously offered a package for giveaway!
What You Can Win:
Free Shipping to destinations in the US
On the website on each product link above they have a thorough description of the product and there are tons of customer reviews.  Check it out!
In order to win, leave a comment on this post before Tuesday, May 20th at noon CST.  You are allowed to leave one comment per day.  The name will be be picked by comment number through random.org and  I'll post the name of the winner on  Tuesday May 20th (please check back) and the winner has to claim their prize with 48 hours by responding with their address through my contact tab at the top right hand of the blog.  I'll forward the address on to TapeOnline for shipping directly to the winner.  The clear cases are offer offered only for domestic US Shipping because for international guests, the shipping exceeds the cost of the cases HOWEVER, if you are one of my sweet international guests, I'll offer an alternate prize of stamps and paper that I'll take care of shipping (see, I love you too)!!  Here's what the DVD Cases look like.



Thanks for letting me share my storage, many of you have asked.  Be sure to visit every day until Tuesday to increase your chances of winning.  Have a wonderful weekend friends!
Question Parking Lot:
If you have any questions about this die storage, feel free to leave your question in your comments and I'll continue to edit this post to include the answers.
1.    Debra Burgess, comment #7, asked a question about which case this was.  My link above (Clear DVD Case) will take you directly to the product I order.  If you are searching the TapeOnline Site – use this information:  TOL Part #: Super Jewel Box King Tray Manufacturer's Part #: 32.C Model: King Size One / Two Jewel Box / Rubber Stamp / Die Case Product ID: 2636
2.    Pam Roth, comment #77 asked where I get the heavy duty cases.  All the links are above – simply click on Clear DVD Case or Clear CD Case.   Also, I wanted to make sure you know they are not heavy duty.  They are just like every day acrylic cases that you use for movie and computer CD/DVD's because that's what they are.  Mine have stayed in good shape because of the way they are stored here.  Every now and again I have to replace the small CD cases which have more fragile tabs but I have yet to have to replace a DVD case.  Mine have always arrived from Fedex intact, but if the mailman had a bad day and thew the box down, they may break.
3.  Dottie Davis, comment #79 asked how to store extra die cuts.  Glad you asked Dottie . . . when I get a new die, I cut it right away.  I do that so that I can see how it cuts and want to make sure it cuts perfectly.  For the first six months, I keep those extra die cuts in the case.  That way when I pull it down I have a sample right there.  After six months I have no doubt used the die several times and those extra cuts go in my die cut drawer.  I can't tell you how often something from that drawer goes onto a new card – it was just in the right place at the right time!!  Never throw those away, they come in handy in for card planning!!
4.  Barb Parker, comment #86 asked how I reach stuff at the top.  I'm blessed to be almost 6 feet tall :-)  But I do have a step stool in my craft room.  It's a fairly small room and to make the room work, I've gone vertical!
5.  Sarah, comment #142 asked if the full sheet or half sheet magnet was needed for a DVD case.  Depends on what your full sheet is Sarah.  If your full sheet is the one purchased at tapeonline, it is sized 4.75″ x 7″ which fits the full inside of one half of a DVD case.  You could cut it in half if you only wanted half of one side of the dvd case filled.  I use full 4.75″ x 7″ sheets.
6.  Jessica, comment #243 asked if I know how many dies I have.  LOL no, I don't count them :-)  I've never been in a race to have more but have known for a long time that die cutting is my thing, the thing I enjoy.  What you see here are primarily Spellbinders dies but I have a hefty collection of Accucut, Sizzix (many original) and Memory Box dies along with Dayco, ZipeMate, Original Spellbinders and Quikutz.  These of course aren't shown because they are larger and I have a different type of storage.  At any rate, back to the original question…the number varies because I trade, buy and switch depending on my style.  Keep in mind, I've been a die cutter since before the first Sizzix was released in 2001.  I used to go to our County School Board building, paper and kids in tow, to use Ellison die cut machines and some of the several hundred Ellison dies they had for teachers use.  Although I wasn't a teacher, the kids and I had craft day all the time and I used my Dayco dies for cutting quilts.  I got my first professional die cut machine – Accucut GrandeMark in 2003 and got my first digital die cut machine – The Craftrobo Pro in 2005.  That said, almost 15 years is a long time to collect :-)
6.  Jean C, comment #244 and Mary Kimes, comment #263 asked about the baskets that hang over my media shelving holding dies.  They were purchased at IKEA.
7.  Beth Ellis, comment #268 asked what program I used to make my spine labels.  I used Excel and dropped the names into a regular spreadsheet grid and colored the columns.  I did this because the ACE Sheets are a recent addition at Tapeonline.  I used a whole page sticker sheet but will be very honest, my labels don't stick well and I have to continually reinforce them with a dot of glue.
8.  Margie Luttrell, comment #322 asked how do I remember which set I want when creating.  For each type of die I keep a current catalog – either on my computer or printed (I prefer printed) and I flip through the catalog to look at shapes instead of hunting through the dies themselves.  Also I go to my extra die cuts drawer when I'm not quite sure what I want….
9.  Linda R, comment #374 asked about the catalog I use . . . great question Linda!  So the answer is why reinvent the wheel?  I simply download the latest Spellbinders Catalog.  It says in a drawer to the left of the desk you see in the picture.  Inside that catalog I mark what I have, what's retired and what I'd like to get :-)  I have the same system with my Accucut and Sizzix dies – I keep both current and past catalogs in my handy dandy catalog drawer.
10. Ann Robbins, comment #377 asked if I buy my dies.  There's really no set simple answer to this . . . in fact, this so made me smile.  I liken it to the Christmas that I thought I would work in a yarn shop to make money for Christmas.  I already hear your laughter!!  I made not a cent of extra money for Christmas but there's sure a lot of yarn at my house and  in the end everyone was happy.