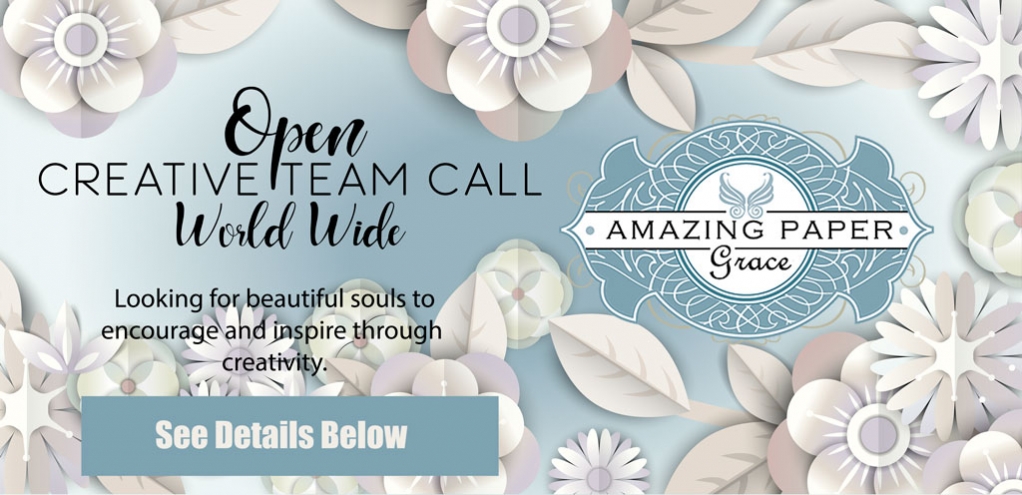 Does your beautiful soul love to create?  Do you find it rewarding to inspire and encourage others?  If so, we are looking for a wide range of artful, adventurous, inventive dreamers to complete the Amazing Paper Grace Creative Team for the term of July 2020 to July of 2021.
Amazing Paper Grace is conducting a Creative Team Call that is open worldwide and will accept email submissions from June 15, 2020 until midnight on July 3, 2020.  Keep in mind that this post is very long, we want to answer every question before it is asked.  Simply take your time, read through carefully and do your best :-)
Entries must adhere to the guidelines outlined below:


Who:
Amazing Paper Grace by Becca Feeken (APG), known for detailed and elegant designs, is looking to complete our Creative Team of 9-10 diverse artists to use Amazing Paper Grace dies in remarkable card making, 3D paper crafting and to navigate the blurred lines between paper and fiber.
Becca is a prolific licensed designer with Spellbinders Paper Arts, a leading style influencer and manufacturer of high quality, trend setting, precision engineered dies.  She releases more than six collections a year plus a Die of the Month.   Amazing Paper Grace dies are unique in the market and come jam-packed with thoughtful features that lend themselves to multiple uses and support the budget-conscious crafter.  As a team, one of our goals is to make inspiration exciting, abundant and easily accessible to those who use the dies.
We're looking above and beyond the clean and simple look. Our dream designers should have intermediate-advanced crafting skills and specialize in one or more of these crafting niches:
Timeless Papercrafts – Cards, 3D paper construction and classic layered arrangements focusing on APG dies and die-cutting techniques
Flower Making – Project embellishment by flower making with paper, foam, and other media using APG dies
Colorist – Project embellishment with markers, ink, pencils, watercolors and other media
Video Making – Project exposure through video on YouTube and/or Instagram utilizing APG dies
Tutorial Making – Project exposure through thoughtful step-by-step written instruction paired with photos using APG dies
Mixed Media – Project embellishment through Mixed Media Techniques using APG die cuts


Expectations
Creative Team members create 6 – 8 blog posts per month which include 1 – 2 Blog Hops each month along with the social promotion for each.  Blog posts feature at least one project and Blog Hops feature at least two projects using the same die – example a card and a small ensemble item.  All projects are written in English and are accompanied by multiple photos.
Creative Team members must have an active Blog, Instagram, and Pinterest.  We post inspiration to an internal Gallery and also post inspiration to retailers with galleries.
Creative Team members are asked create Amazing Paper Grace projects using exclusively Amazing Paper Grace Dies as the hero of their project and are welcome to use Spellbinders Core Dies.
Members should possess photography skills with camera, software, and lighting that yield well lit staged backgrounds, flay lays, upright, and close up shots, as well as basic photo editing skills for editing, resizing, renaming.
Members should be able to work within deadlines and follow outlined instructions/prompts/guidelines.
Members are asked to work with others in a supportive, encouraging, no-drama team environment
Members should have a desire to learn and grow.


Duration:
1 yr, Term begins July 10th, 2020 and ends July 10, 2021


You Receive:
Between 50 to 60 dies sets to work with throughout the year, including exclusive Die of the Month and new releases.
Team communication in a private platform
Name, link, and headshot on the APG website
Creative Team blog badge and watermark
Regular social promotion on APG blog and social media.
Access to Mentors passionate to nurture you in the areas of Social Media, Blogging and Photography
Compensation for special project requests.


How to Apply for the APG Creative Team
You will complete your application by email.  Please send  your answers to helloapgct@gmail.com
With the Subject Line: APGCT-Submission – Yourname
In your application email please include:

Your full name
Preferred e-mail address
Phone number
Mailing Address
Blog Link
Social Media and gallery links (full links, not @ handles)
Are you an influencer or designer for other companies?
Where do you fit in the niches of paper crafter, colorist, mixed media, video maker, written/photo tutorial maker, flower maker, or other? Please explain your experience.
Give us a link to your favorite blog post on your blog.  We would like to read how you interact with the public and how generous you are in giving out information, encouraging, and inspiring your readers.
Short paragraph telling us why you want to be on the APG Creative Team
If you have had experience being a Creative Team Coordinator, please let us know.  
In your email application – please attach:
Attach 2 photos of 2 different projects each, that best display the level of style, creativity, inventiveness and the quality of workmanship we can expect from you on a consistent basis.
For project 1, they should be jpg, 1200x1200px, 300 dpi and named Yourname-1 and Yourname-2.
For project 2, they should be jpg, 767×767, 72 dpi and named Yourname-3 and Yourname-4
These do not have to be new projects.


Notes that will help:
Please keep in mind that we are looking to fill specific niches and many factors go into choosing.  If you are not selected it doesn't serve as a reflection of your artwork, your style or your location – we seek to create a harmonious team with talents that balance many areas and the entire team.
We will endeavor to answer questions but may not be able to get to them all.  We'd like to keep questions limited to this process and to important things we may have left out.  We have a very small team so unfortunately messages regarding the Creative Team Call will not be answered on any other profile such as Facebook or Instagram.
This is our very first open call.  Previously the only way on the team was through private invitation. We hope to have other Team Calls in the future but you should not wait.  We are convinced that everyone has a talent, you might be great with ribbons and bows, you might color an awesome flower,  you might have a knack for applying pastes to make dies look like metal, you might have a way with flowers or you might have a way of creating the most romantic shabby cards.  Apply!!!  We want to be represented by all kinds of talent. Apply!!


All information you send will be held confidential and used internally for the purpose of selecting and contacting Creative Team Members only. Nothing will be used, published, or shared in any other way.
Creative Team members will be contacted by July 10th and announced publicly on the APG blog before the end of July 2020.
In the case that we have left out some vitally important information to this process, we will fill in the answer to those questions through email to helloapgct@gmail.com, with the subject line: APGCT Question