Happy Monday everyone!! Can you believe it's the seventh day of celebrations for an event and prize packed anniversary for Our Daily Bread Designs!! Don't worry, it's not over yet, the big shindig is tomorrow (believe me, you will not want to miss this). Be sure you check the Our Daily Bread Designs Blog for celebration specifics.
In the meantime, I'm here to share a card today from one of my favorite Our Daily Bread Designs sets called "On Eagles Wings". The scripture is framed by a lovely Ornare template that features both embossing and piercing that is also available in the Our Daily Bread Designs store.
Our Daily Bread Designs is celebrating its one year anniversary and this was one of the first stamp sets offered. I'll never forget the first time I saw this set – it completely took my breath away. If you are mildy curious how others have been inspired through this set, take a peek HERE.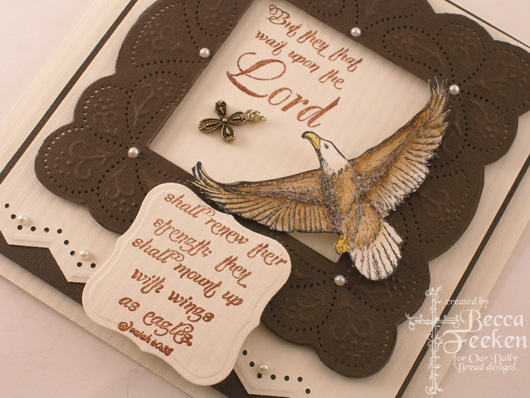 So having said all that, how would you like a chance to win this set? Graciously, Kelley with Our Daily Bread Designs is allowing me to give this set as blog candy! To have the opportunity to win, all I ask is that you leave a comment on this post (one comment per person) and check back to see who the winner is on Wednesday, March 18 after noon CST. The winner will be picked by Random.org and then needs to identify themselves here at Amazing Paper Grace with their name and address through my contact page at the top of my blog. If no winner claims their prize within 48 hours, I'll pick another name through random.org.
Don't forget to check out the Blog Hop at Our Daily Bread Designs Blog on March 17th, there will be a wonderful, wonderful reveal and you can play the Scripture Scramble. We've waited a whole year for this, so of course it will be very, very special. See ya there!