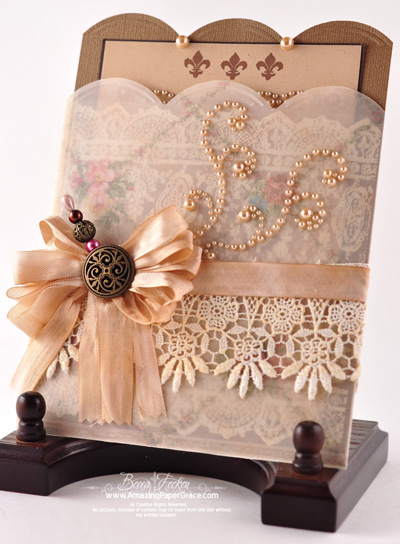 Hi there blog friends, what a day!  This morning I settled down with a cup of Raspberry Chocolate Truffle coffee (new to me) out of my Keurig and I thought how much better can today get?   It's a glorious day and I've been working my rear off behind the scenes on fun things. So I'm happy to say that I'm finally ready to run the tutorial on the Pop Up Bird Cage. I've broken it down into logical parts, so come see me tomorrow for the first part, okay?  Also it will not seem daunting at all the way I have it broken down.  All I ask is that you come with your "I Can Do It" mantra tucked under your hat.  Even if you haven't purchased these dies, there's something in it for you!!  I walk you through making the card/gift box so that you can use it for other occasions as well :-) 

Now, for my card today I wanted to play around with vellum again for a vintage look. I'm pleased that the acrylic overlay I could never figure out how to use (from Hambly Screen Prints) looks fabulous behind the vellum.  I'll have to try that trick again, lol!!  This is the flattest card I make, but I'm good with that.  Since I'm able to build things on the pocket, I can get away with next to nothing on the pull out panel itself.  Also, since I don't have to leave room for a sentiment to show, you can really get carried away on the pocket!
I'm working with a new sentiment from Quietfire Design called You Use a Glass Mirror.  I paired it up with some Fleur de Lis embellishment stamps from Quietfire as well.  Just something different from my craft table!

SUPPLIES I USED
Stamps:  Quietfire Design – You Use a Glass Mirror,
Paper: Vellum – Unknown, Hambly Screen Print Acetate, Coredinations, Bazzill
Ink: Colorbox Chalk Ink – Chestnut Roan
Accessories: JBH Vintage Button, Seam Binding, Recollections Pearls, Lace, EK Success Scallop Border Punch (Michaels)

Thanks for your patience while I figured out the best way to present this tutorial – I know quite a few of you have emailed me about it.  New stuff is on the horizon so this is a great time for me to get this done.  Be sure to stop in tomorrow!