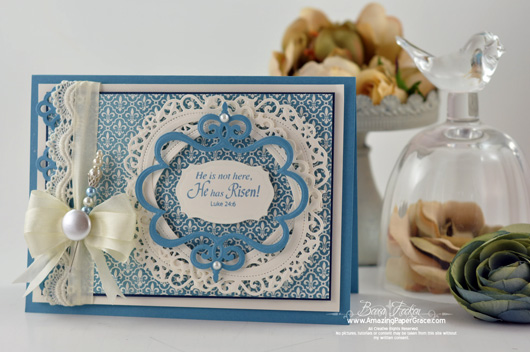 Hi there blog friends!  Let me start out by saying thank you so much — I am humbled by the sweet honor of your favor!!   I asked God for courage, and received an answer loud and clear, in a way that has left me awed and speechless.  If you left a message for me by going to my contact page and saying that you wanted to be on the pre-order list for the Peg Bow Maker, you should have received an email from me with a link to the ordering page and with my sincere thanks for believing in me.   I have yet another tool that I've been developing for the last year and a half that will see the light of day soon.   It's not a do-it-yourself kind of thing but you've empowered me think I can actually finish bringing it to life.  Ah, courage . . .
In the mean time, there's yet a wonderful new die template that you've not seen yet.  I wasn't able to show it before CHA and it almost killed me!!  Spellbinders™ Floral Ovals is a template that I've been dreaming of.  I love ovals and use them often, but this one has a decorative, romantic, feminine flare.  I used two of the Floral Ovals set slightly askew to create an opening for my sentiment panel using Spellbinders™ Labels Twenty Five.  Onr top of the opening I laid  Spellbinders™ Twisted Metal Tags and Accents – I know I use that a lot!!  Paired with new stamps from JustRite Stampers that you haven't seen yet either – I ask you to turn your thoughts toward the Easter that approaches.  Using a sentiment from JustRite called Easter Blessing Oval Medallion, I  paired it the new JustRite Fleur de Lis Background Stamp.   Up the side of the card I used Spellbinders™ Moroccan Accents that I layered with lace and seam binding and finished with a Triple Bow (Double bow + 1 on Peg Bow Maker).
Sincerely sweet friends, I am amazed – I read every email yesterday and responded individually to more than 250 of you, I have more to go but missed a night's sleep somewhere in this adventure.  They were not all emails about the bow maker, some of them were well wishes and some were other people in my same situation reaching out for a shared word.  It's a lesson to me daily that I don't know everything about the world, but I do know that I have a treasure in the family I've made in blog land and I want you to know there's not an iota of your kindness that I take for granted.