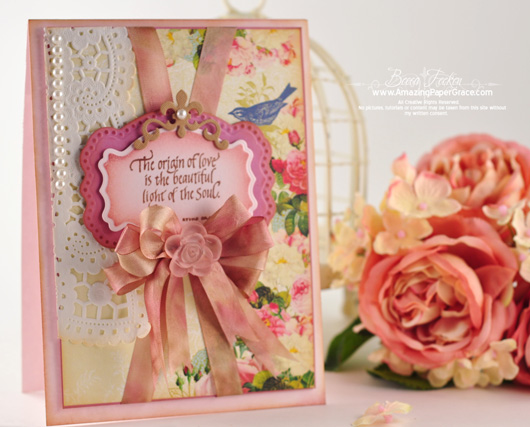 Hi there blog friends, as you may guess, the Spellbinders I'm showing today is a new one. I know you want to see what they look like in every day use, so you know me, I'm happy to oblige! By the way, you have not seen all the dies revealed yet, did you know that? There are more to be shown at CHA so don't cap off that list yet. Of course as they are made available I'll be showing my first stab at creating with them too!! The die set I'm showing today is Spellbinders S5-073 Orchard Harvest Tags & Accents.
I'm using a new sentiment from Quietfire Design called The Origin of Love – it just felt to me like muted tones were again the order of the day.  No problem with me complying there!!  I've taken two of the die templates and layered them here and I must say they look beautiful together and thankfully the rectangular profile makes this combination perfect for sentiments.  Since I'm all set up for digital papers now (i.e., printer hooked up, loaded with paper and full of ink :-) in the studio, I can get those papers on a whim.  These are digital papers from Websters Pages – Love!!  This particular paper is originally square but with digital you get it like you want it – I made it 5″ x 7″ and mirrored the design so the bird would be on the left.  I added a piece of a square doily from my stash just to add more interest on the left side.  I finished up with a button and hand dyed cream seam binding.
Now that you've seen all the new Edgeabilities, Spellbinders has put out two new videos so that you can see these wonder tools in greater depth.  It's amazing to me that something so small has so much power with the ability to mix and match – check these out!!
Mix and Match Edgeabilities
Edgeabilities How To Techniques
I hope you're having a stellar week!!  Be good sweeties!!