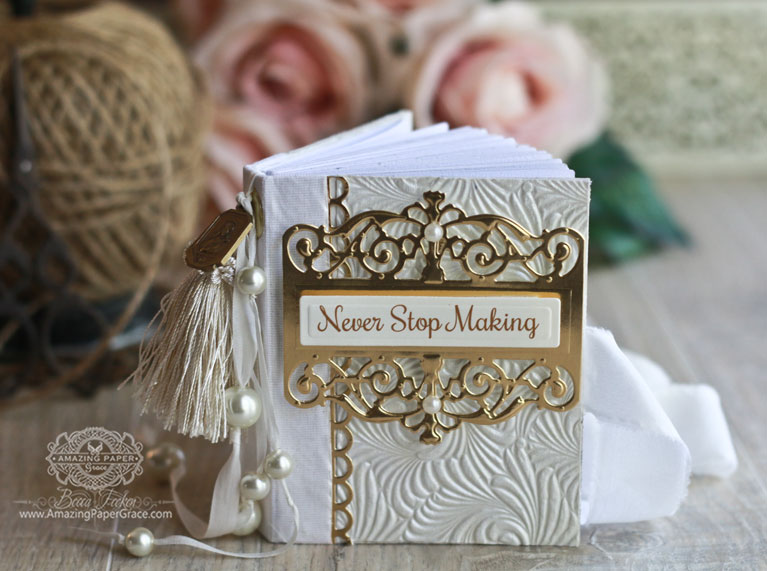 Hi there folks.  I'm sad to say that I missed Day of Giving Friday yesterday, but I'll make up for it in the next week or so with a giveaway; I'm spending some holiday time with my family.  Do you want to know how long it takes to make a card when you know company is coming or you're going out? Well the answer to that is it takes forever.  You can't seem the find the certain color you are looking for; you misplace place your die; you run of glue runner – these are all the kinds of things that happen when you just gotta get it done.  At some point I spend more time spinning my wheels than going anywhere, that's when I stop.  Instead, today I thought I would show you something I pulled together to celebrate a new hashtag that Spellbinders is supporting on Instagram – #neverstopmaking using the Spellbinders Vintage Elegance Filigree Booklet Die.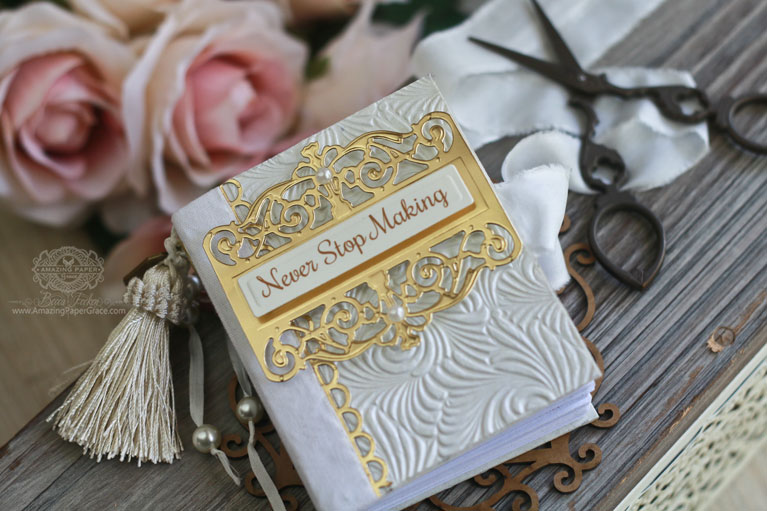 There are so many makers out there – papercrafts, needlecrafts, sewing, mixed media and the list goes on.  I'm the type of gal that has lots of hobbies and as you can tell from my last post, I now have the opportunity to throw some love into books.  That passion has always been there but now that I have a die that accomplishes something I was loathe to do by hand, well, it's a perfect match.  This was made by stitching the pages together, covering mat board and taping everything into place with binding tape.  This one I did without looking at anything, I just let it go together how I thought books looked.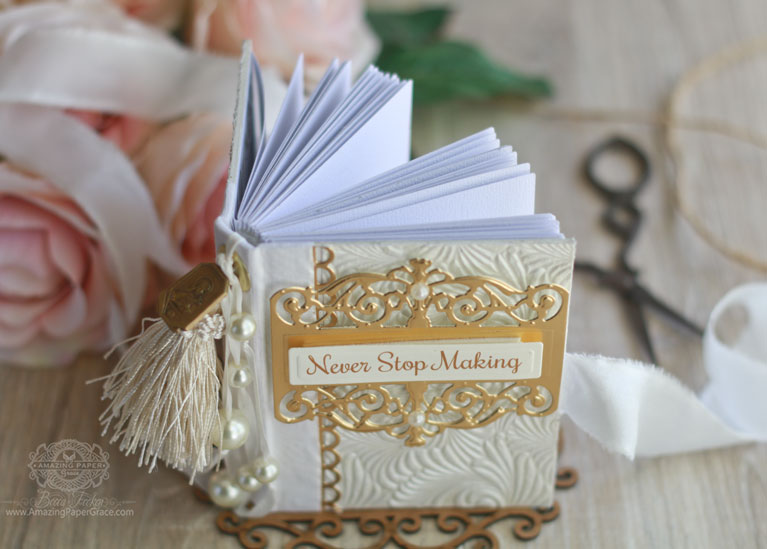 This right here is therapy for me.  I hope you enjoyed the pictures I shared.  And say, if you make anything with my dies and share on Instagram, be sure to tag it #amazingpapergrace and #neverstopmaking.   Oh, and where ever you buy your dies (or crafting supplies for that matter), leave a review letting people know how it was working with the item – I read reviews on everything before I make a purchase :-)


Stamps:  None
Paper: Neenah Classic Crest 80lb Smooth (Natural White), Gold and Cream from my stash, Gold Poster Board – Hobby Lobby
Ink: None
Accessories: Spellbinders Vintage Elegance Filigree Booklet,   Spellbinders SDS-054 Giving Occasions Die and Stamp Set, Binding Tape, Mat Board


I'll be back soon, hopefully having finished with the card that stumped me today!