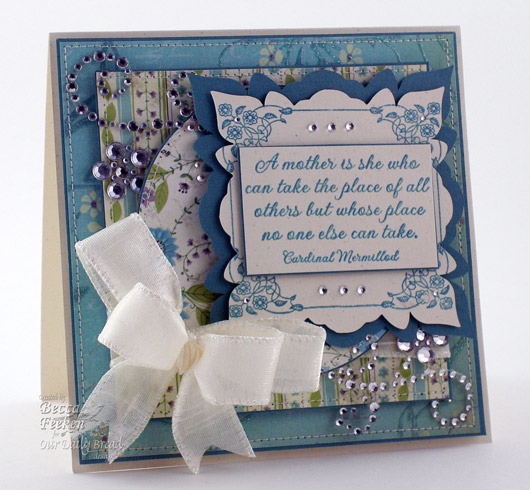 Earlier this week the Design Team for Our Daily Bread Designs paired up to pull the wool over Kelley Holland's eyes. We swapped cards to see if she could pick the original creator. Did you play along? Here's the card that I submitted. I was tasked to CASE Lorelie Kim and make people think that I was her. The first thing I thought was butterflies, jewels, bling, shimmer, bling, bows, bling and sewing and did I say bling? Well I worked in three out of the four and it was a pure joy to emulate her style! I selected one of the four new sets released by Our Daily Bread Designs this month called Mom. Plus Lorelie makes the straightest stitch known to man and can even stitch around a circle. I've sewn all my life and found little luck with the latter.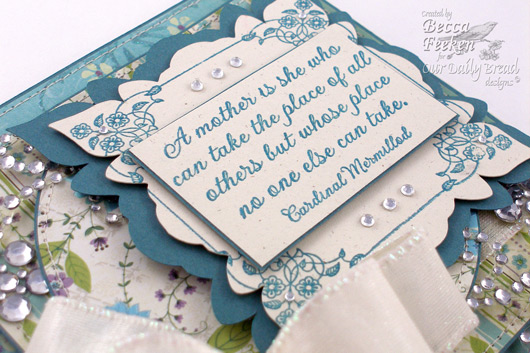 My goodness, I had to really dig in my stash for those jewels. I would rather have had pearls but since I have a little bit of a problem with hoarding I typically don't go out and get that type of luxurious item until I have a specific use for them. Instead, I thew in these rhinestones and they seem to work just fine.

Card Recipe:

Stamps: Our Daily Bread Designs: Mom
Paper: The Paper Company – Cottonwood, Bazzill, K & Co. – Floral Dreams
Ink: Color Box Pigment Ink – Sapphire Silk
Accessories: Rhinestones – Prima, Ribbon, Slice Die Cuts – Vintage Findings Cartridge
This was a fun exercise and I assure you it we all had a lot of fun behind the scenes. The ODBD Design Team is a very close knit group IRL and it was a privilege and blessing to spend April Fools Day picking out the best things about each other to highlight.
Thanks for stopping in! Wishing you a glorious holiday weekend!!