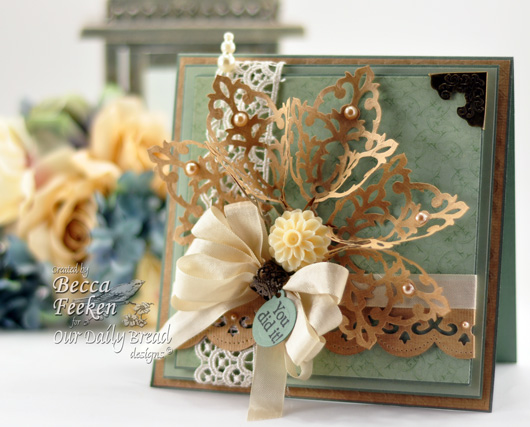 Sweet blog friends, I went out of town over the weekend and came home to a hot, hot house – it seems the AC/Heat system in my house was contemplating retirement.  On a 90 degree inside Monday morning I set about the task of finding a replacement that I hadn't anticipated having to do for some time.  How good is life?  Well it's good enough that the nicest repairman came out and fixed it for me.  I really thought it was done but with luck I may make it to winter when costs will be lower.  Well enough of my adventures, so are you curious how many mini glue dots it took to make the bouquet?????  The answer is nine, only nine!!  If you'll stick around I'll show you how!!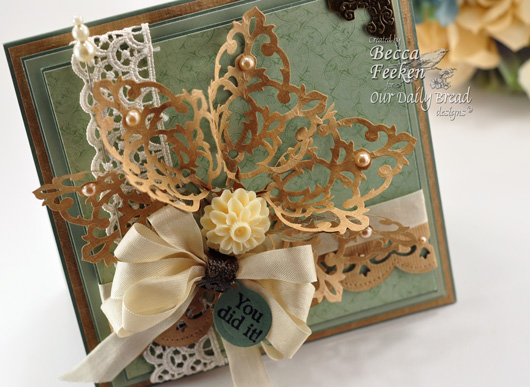 It was a no-brainer to make this card in white – that's the color I'd pick every time but some of you wrote that you could not see it.  So for my sample today I'm using a thin text weight paper, similar to a typewriter weight, in kraft for a different look that you can see.  Pulling a sentiment out of my Dreams set by Our Daily Bread Designs that says "You Did It", I stopped myself from stamping inside because I can use this card for a number of occasions now.  The bouquet/flower shape is made using Spellbinders™ Damask Motifs.  With a band across the card using Spellbinders™ Classic Scallop Edgeabilities and Spellbinders™ Classic Decorative Inserts One, I finished off with a resin flower center, a Peg Bow and a Tim Holtz element on the corner.  My quick video will show you how simple it is to pull your own bouquet or flower together!
SUPPLIES I USED
Stamps: Our Daily Bread Designs  – Dreams
Paper: Cosmo Cricket, Bazzill, thin kraft
Ink:  Versafine Onyx Black
Accessories: Spellbinders™ Damask Motifs, Spellbinders™ Classic Scallop Edgeabilities, Spellbinders™ Classic Decorative Inserts One, Seam Binding, Peg Bow Maker, Laliberi Resin Flower, Pearl Pic, Recollections Pearls, Lace

Thanks so much for hanging in there with me.  The past several months have been full of travel for me and I think I'm home for awhile.  I'm so blessed to be tinkering away happily in the background with some new toys that you'll be seeing soon!  Smooches!!  Thanks for stopping by, see you soon!!