Did you like that play on words? Get it….tulle box….tool box. My husband looked at me like I was crazy when the light bulb was blinking off and on over my head.
:67
I kept babbling about a tool/tulle box and he just didn't get it. Well, this is what I had in mind….. I was shopping in Target and found these little wire framed boxes covered with tulle that close with a drawstring and the Tulle Box idea was born.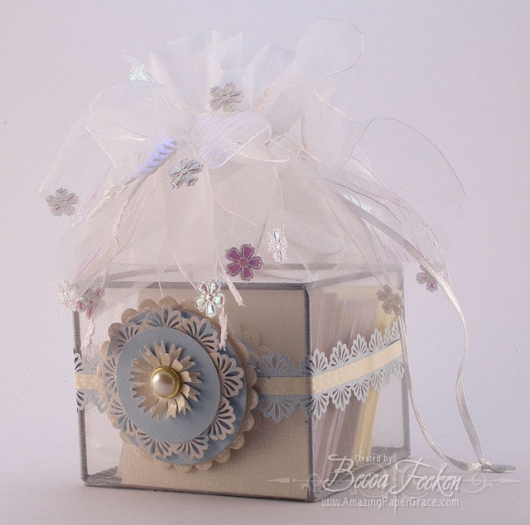 I just knew that I could make a set of 3×3 cards to fit in the "Tulle Box" and what a quick, fast and easy gift. But, the drawstring top looked very plain and I thought a little bit about how to get something wrapped around the top. Well lo and behold in the $1 bins there were also hair bungees for little girls that had organdy ribbon, flowers and sequins tied on them. I slipped it on the top of the drawstring and viola instant decoration and closure. Here's another view from the side.

The card I posted last night made me delve into my Marcella Kay – Blue and Cream collection. It is the most delicious paper and it has a heavenly shimmer to it. I've said before that pictures don't do it justice. After my Friendship card, I had scraps left over and I wanted to use this paper while I had it out. I made a set of eight 3×3 cards and I made up my own template to make the envelopes.
Here is what the set looks like, unassembled….


Oh, the possibilities are endless!!! I have ideas for a couple of other sets and this was so very easy. There's nothing more satisfying than to crank out a bunch of 3×3 cards that you really don't have to put too much thought and planning into. They are so small that you have stop adding things after a couple of minutes. Thanks so much for stopping by.
Supplies: No Stamps, No Ink, Paper: Marcella Kay – Blue and Cream Collection; Accessories: Box from Target $1 spot, Hair bungee from Target $1 spot, Pearl Brads – Michaels, brads, Cuttlebug, Nestabilities, SU Scallop Punch, Martha Stewart Flower Punch, Fiskar Border Punch, pearls, rhinestones.