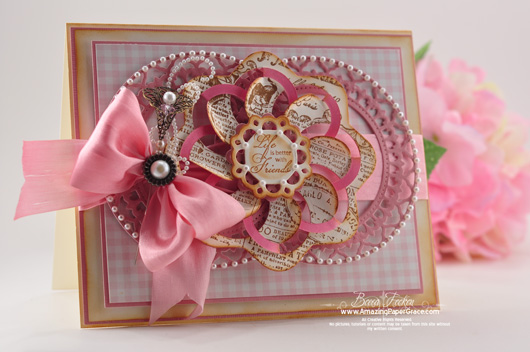 Oh sweet blog friends, I just can't say thank you enough!!!   More than 325 of you left sweet messages to congratulate Lauren on her graduation.  It had both her and her friends in tears as they read through your well wishes.  She was speechless – I'm not kidding!  As for me . . . I'm still on cloud nine – so many of you found me at the show to wish her a happy graduation and to give me a hug.  Humbled and thankful can't exactly describe what I'm feeling in my heart after being showered by your kindness.  I woke up this morning knowing that life is wonderful and I'm blessed beyond measure!!!  I'm keeping your hugs – there were sooooooo many of them and because I'm usually so isolated I'm putting them on reserve for later to pull them out when I need that little boost.  I know I'm gushing but I've had the best weekend!!!!  So, believe it or not I had some things prepared to show before I left and today I want to share with you one of my favorite Spellbinders Die Templates as well as some new JustRite Papercraft stamps – together that spells a new technique that uses them together!!  Come along :-)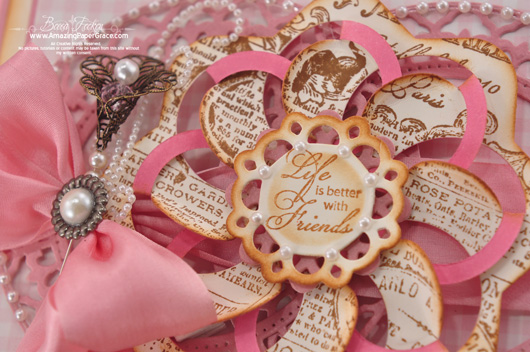 As you know, I'm a big fan of background stamps and since sometimes I spend way to much time hunting for just the right paper, background stamps save me more times than you can know.   For my card I wanted to use the new Fleuriste Newsprint background stamp by JustRite Papercrafts along with Spellbinders™ Around About (Cut-Fold-Tuck) die template for a peek a boo kind of card.  Today I'm showing you how to custom color your double sided stamped paper for use with the Spellbinders Cut-Fold-Tuck dies for a cohesive look.  My sample today doesn't have a border but in the YouTube I've prepared will show you how to get this look with a border around it.   I backed my sample with two of Spellbinders™ Splendid Circles and topped off with a sentiment using Spellbinders™ Picot Edged Circles and JustRite Papercrafts sentiment from Spring Rose Medallions.
Here is the Becca Bit covered by a short YouTube:

SUPPLIES I USED
Stamps: JustRite Papercrafts – Fleuriste Newsprint, Spring Rose Medallions
Paper: Neenah Classic Crest – Cream, My Minds Eye, Coredinations
Ink: Vintage Photo Distress Ink,  Color Box Chalk Ink – Rose Pastel
Accessories: Spellbinders™ Around About, Spellbinders™ Splendid Circles,  Spellbinders™ Picot Edged Circles, Recollections Pearls, Pearl Pic, Zva Creative Pearls, Silk Ribbon, Spare Parts Brad, Peg Bow Maker

I'll be home soon — thanks for stopping by, see you soon!!