A quick post today to share a little tool that saves me time every day. I use so many mediums to color and for each medium, when I get ready to use it, I scribble a sample so that I can see the actual color. Well, scribbling samples every time I sat down to color something seemed like such a waste of time. So I purchased an easel scrapbook that was top bound. At one setting, I scribbled samples of all my colors and slipped the sample sheet into a sleeve of my easel scrapbook.
This saves me time and I love it that it is propped right in front of me. I can match colors and see the difference in shades as well as match colors across mediums. Plus, I've been known to carry my swatch book to the store when I need to match something or so that I don't duplicate colors that I purchase.
I've also scribbled samples of my often used Prismacolors and since they look different when they are blended with Gamsol or odorless mineral spirits, I went ahead and scribbled samples of the Gamsol blended results. Here is one of sample Prismacolor pages.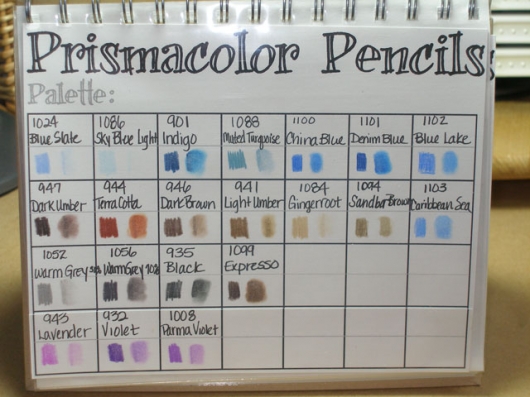 I did it with my glitter glues as well. There are too many pages to show here, but I've also done the same with some of my inkpads, chalks, watercolors and some other mediums.


Have a blessed day!