Art is the sustenance that gives our creative souls the food it needs to dream, hope and create.   From my core I have a call to create unique work, to see tools in a different way, to celebrate unexpected results and a desire to share and motivate others.
You can't create until you get started with crafting.  Use whatever you need to get a jump start – allow yourself to CASE, allow yourself to be inspired, allow yourself to build your confidence.  Like me . . . once you are up and running and you know this is your place, then make it your own, make it uniquely you, develop your own artistic center.  I hope to bring you along on my creative journey, so that when we find that fork in the road, you stroll confidently on, knowing that you have your own style, your own purpose for creating and an "artistic philosophy" to share.  Have an expectation to grow, then raise your own bar!! Thank and credit the designers that inspire you along the way and don't be surprised when one day someone is thanking you for passing it along.
---
Hi there blog friends, I have something I've been working on for the past couple of weeks that I wanted to share with you, but first the "back story" to tell you how this came about.  In life for me, there's usually a back story that propels me to do the things I do, so here goes.  My sweet daughter is a college student studying art.  I can hear you shaking your head and thinking that it probably makes sense but no . . . this is different.  She has never been a crafter.   She has no interest whatsoever in what I do, in stamping or in blogging.  Her art is way different – a kind of grunge and cute would never be a word to describe what she does although I love her work and think she's very talented.  In one of her classes this semester, she came to me and asked me what an artistic philosophy was – I'm pretty sure it is an artists mission statement.  She turned to me and said "Mom, you should have an artistic philosophy".  I said, "but oh, I do.  Along with my faith, it's what I feel in my heart when I sit down to create and it's the words I want to pass on to my blog family, even though I think they know".   So today, I'm sharing it with you and in some form it will be on my side bar when I figure out how to get it there :-)  What a sweet conversation we had.   Please let me know if you like it – can I count on you to come along?
The card I created today fits right into the words I've created for my artistic philosophy.  As you dream, so shall you become!!  Unlike most of the cards I create, this one was done inside of a half an hour – that never happens!!  Rarely doing shape cards, I used Spellbinders™ Labels Twenty Four and on top of it layered the swirly accent from Spellbinders™ Twisted Metal Tags and Accents.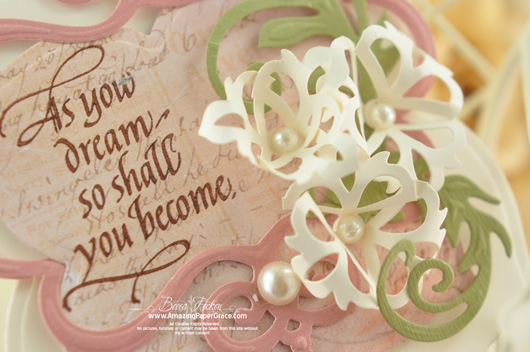 The sentiment is one of my favorites with Quietfire Design called As You Dream So Shall You Become.
.



The small flowers were created using the border from Spellbinders™ Damask Accents and the leafy embellishment is Spellbinders™ Floral Flourishes.
See you soon friends, in the mean time, get started with crafting!