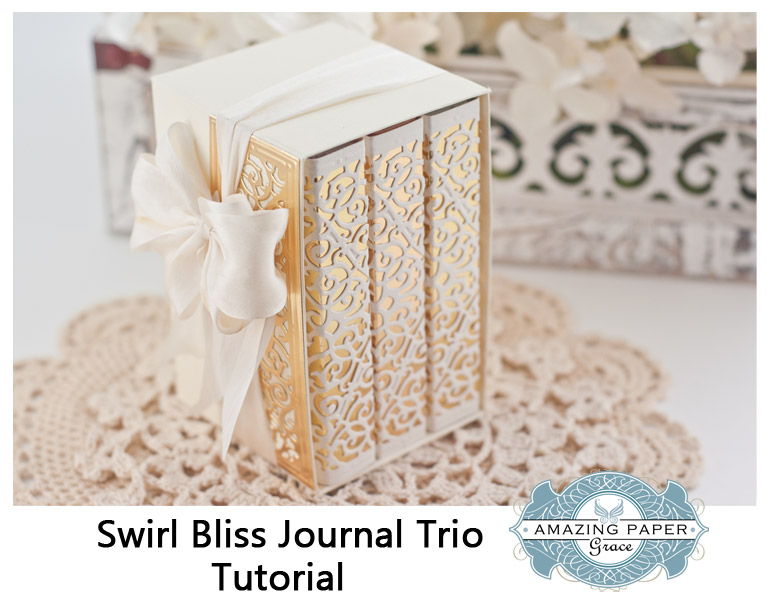 Good Morning sweet friends!  Whew, it's been busy behind the scenes and you'll notice I have a new look!  So today I'm stepping out with baby steps. The change was necessary as my old theme was slowly decaying and giving behind the scene errors.  This upgrade brings many more options and with so many bells and whistles I'll be sure to keep an eye out for glitches.  Crossing my fingers that the memory upgrade we did is enough.  One change you'll notice is the blog has now moved to www.amazingpapergrace.com/blog/ and I have a home page now.   Make a note just to add that /blog/ at the end or just go to the menu at the top left hand side and select blog.  Yes, it will take a bit of getting used to but now I have more room to grow!!  I hope you like the change – eek, the last change to my blog was 2010!  Help me test ou the comments – let me know what you like best!
Today I thought I would share a tutorial I had previously shared over on the Spellbinders website.  Many of you were looking for the instructions, so here you go!!



Instructions:
For each of three journals complete the following steps:
Spine Cover
• Cut a 6-1/2″ x 4-3/8″ panel from cream card stock and make a light tick mark at center of long edge at 3-1/4
(See Picture 1)
• Cut/emboss S4-506 Swirl Bliss (inlaid piece only) vertically at 3-1/4″ tick mark then erase mark. (See Picture 2)
• On wrong side of cover apply 1/8″ ScorTape around inside of embossed border.
• Add Glossy Accents to filigree then place a 1-1/2″ x 4-1/4″ panel cut from Gold Foil Card stock right side down on
ScorTape. (See Picture 4)
• Turn cover right side up, using ScorPal create a score line 2-7/8″ from each edge using a ruler to keep stylus
from straying.
Flaps
• Cut/emboss two S4-505 Swirl Bliss Pocket from Gold Foil Cardstock
• With right side up score 1/8″ on outside of existing score line on left and right side of each pocket.
Fold in on three sides along score lines.
• Adhere cream panel cut 4-3/8″ x 2-1/8″ to back side of each pocket along scored edges.
(See Picture 5)
• Slip completed pockets onto front flap and back flap of book.  (See Picture 6)
Covering Book
• Trim and discard elastic from purchased journal
• Slip left side then right side into pocket on each flap and push until cover spine meets book spine.
(See Picture 7)
Journal Trio Case
• Cut cardstock to 10-3/4″ x 10″ and with 10-3/4″ edge along along top of ScorPal, score at 1″, 4″, 6-3/4″ and 9-3/4″
• Turn card stock 90 degrees and score at 2-3/4″ and 7-1/4″
• Clip along red lines on diagram then apply adhesive where shown.
• Glue long tabs towards center Stand up edge, fold up second tab the  fold in tab with adhesive. (See Picture 8)
• Cut emboss two S4-506 Swirl Bliss inlaid piece and bordering piece together. Glue to left and right side of case.
• Add ribbon around box and glue bow on the side.
Supplies:
Spellbinders S4-506 Swirl Bliss
Spellbinders S4-505 Swirl Bliss Pocket
Spellbinders® Grand Calibur® Die Cutting and Embossing Machine
Other Supplies:
Flexy Journal Mini 3 x 4.3″ 80 sheets of 74lbs white paper Hobby Lobby SkU 640227;
12 x 12 Cardstock – Cream;
Ranger Inkssentials Glossy Accents;
Gold Foil Cardstock;
ScorTape 1/8″ Adhesive; ScorPal
May Arts: White Silk Ribbon
Alrighty, that's it for today.  Keeping my fingers crossed that all goes well, wish me luck!!