Remember, Prima Blog Candy is up for grabs. You can leave a comment on the post ====>HERE.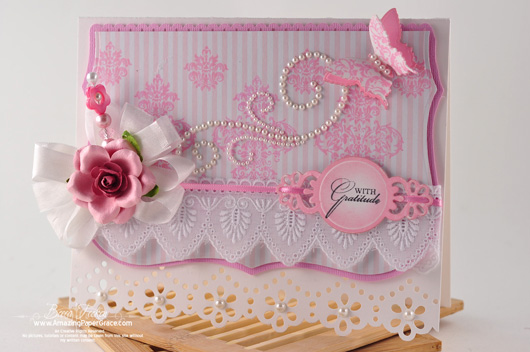 Yes it's true . . . I try to deny it but I think it shows. Yes, I try to slip a card in here and a card in there, but it seems like there's always something on the corner of my desk that's pink. I surrender!  I'm swamped with quite a few deadlines and I finished up this card that has been waiting in the wings for a while – I was just rationing pink!  This is a sweet set from Flourishes called Fanciful Flourishes, that I've been dying to get inky. I love damask, it absolutely makes my heart sing, so it was quite satisfying to work the motif into a background. You know what that means don't you? No hunting for hours for the right paper, because I made the perfect one myself ;-)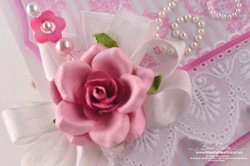 For the romantic shape of the card I used Spellbinders Grand Labels One.  Since the card is predominantly white, I wanted the bottom to seem like eyelet fabric so I punched a border.  Then I added white lace, pearls and ribbon.  I stamped the small sentiment on Spellbinders Floral Doily Accents and threaded my ribbon through to hold it in place.  Lastly, I stamped the damask butterfly (on both sides) and the solid butterfly on another paper then cut them all out with Spellbinders Fanciful Flight.  The flower was already made and I pulled together the pieces for my pearl pick.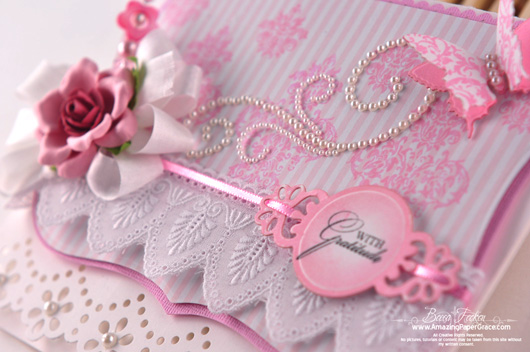 SUPPLIES I USED
Stamps: Flourishes – Fanciful Flourishes
Paper: K & Company, Expedit White Cardstock
Ink: Colorbox Chalk – Pink Pastel
Accessories: Spellbinders Grand Labels One, Spellbinders Fanciful Flight, Spellbinders Doily Accents, Lace, MS Border Punch, EK Success Border Punch, Hug Snug Seam Binding, Recollections Pearls, Zva Creative Pearls

Thanks for stopping in to see me.  Have a fab day!!