Sweet blog friends, I just know you think I fell off the face of the earth.  How lucky am I to have received so many prayers in my inbox.  Let's just say I was on a little adventure that took a little longer than planned.  I've been out of town at a retreat and during the retreat came an injury to my foot that saw the emergency room there, then the emergency room here followed by several days in the hospital.  It's all good now, I couldn't feel better if I tried, but it certainly detoured up my plans to blog about my trip and I found myself with no internet access at the hospital.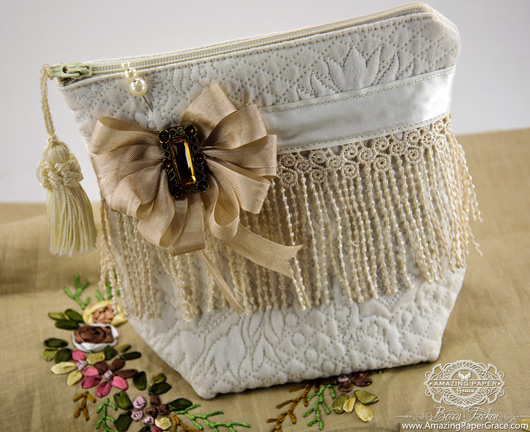 I had a wonderful opportunity to go to the west coast for an event called Spellbound with A Gilded Life.  It was honestly a case of the stars and planets aligning; my sweet kids made a way for me to attend.  It's a retreat of crafty folks that was full of vintage gorgeousness, wonderful fellow crafters, food, shopping and classes.  I was searching for something to rejuvenate my crafty spirit – something that was positive, full of hope, bubbling with inspiration and overflowing with new friendships.  It was all that!  To give myself a creative push I signed up for a swap (brave me) where each of 7 people would make a zippered bag to swap on the night of our dinner.  I made 10 bags like the one above – yikes I haven't sewn anything in year.  I was so floored by the ones I received in return – they were filled with vintage trinkets of lace, buttons and ephemera – (the kind we like to hoard).  I was so struck to receive such treasures.  I'll be sharing some of the few pictures I was able to take on Instagram….  Here's one that goes to the top of my list to try.  I thought these flower centerpieces that were on the tables were dreamy.  Lace, tissue paper and gems….so simple but so delicately vintage.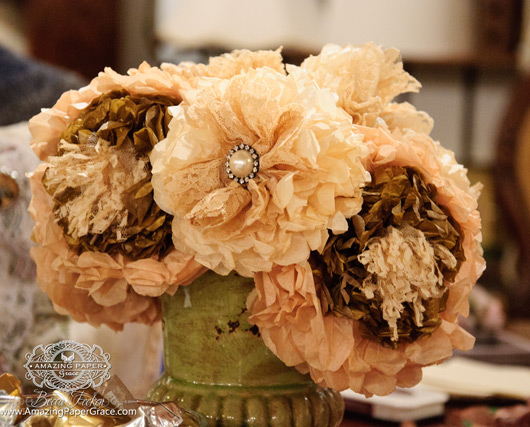 No worries, I'll be back to cardmaking as soon as I can unpack :-)  In the interim, JustRite Papercraft has an amazing sale you might want to peek in on – here are the details!
We are very excited to announce that our log in issue with our new website has been fixed.  Thank you to everyone who helped us trouble shoot the issue. In celebration we  have a Grand Opening Coupon Code for you to use in the store – simply type RESET (all caps)  in the coupon code box at check out and you will receive 25% off your entire purchase. If this is your first time shopping in our new website – you will need to reset your password.   You may use your password from our old website or you can create a new password. Have fun shopping!
Thanks for stopping by!  I'm just itching to make some cards so drop back in as I try to round out the month with some crafty catch up!!