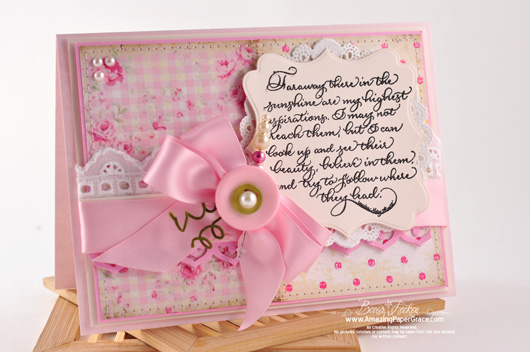 Hi there blog friends!! I didn't make it back yesterday in time to put up a Becca Bit, but I may have some luck today. In the mean time I have a card to share in the same shabby chic mode that I've been in as of late. The sweet sentiment is one from Serendipity Stamps that I've had in my stash for probably more than 10 years. It's noteworthy that it is just as inspiring to me today as it was back then :-)

By the way, we are rock and rolling on the What's The Difference Blog Candy. I'll give you a little hint – I intentionally started out slow so that people who had not read the email would have time to jump in. We are on our way though. I asked before, please don't list the change in your comment!!  If you have not read the rules for the blog candy, I'd appreciate if you'd take a second to scan them HERE.
By the way, today I'm listening to the closing arguments on the Casey Anthony case.  My heart just breaks for that little girl and I've prayed over the outcome.  I just hope that the truth will prevail so that that sweet baby can rest in peace.  Listening to the details of the case sure make you wonder.  I can't even put it into words because it is so heartbreaking.
SUPPLIES I USED
Stamps: Serendipity Stamps – Faraway
Paper: The Paper Company, Bazzill, Digital Papers from Etsy
Ink: Versafine Onyx Black and Clear Embossing Powder
Accessories: Spellbinders Labels Sixteen, Spellbinders Floral Doily Accents, Eyelet Lace, Doily, Button, Satin Ribbon, Pearls

Hugs to you friends!!  I'm blessed every day that I get to spend crafting with you!!