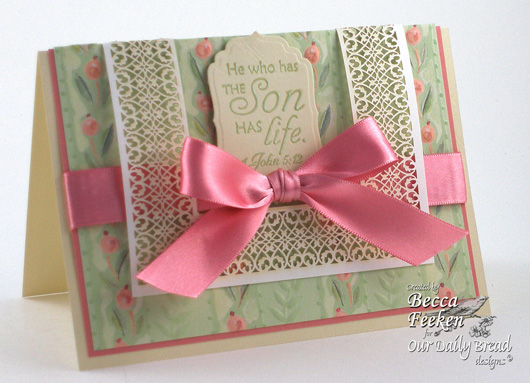 Back to share another quick card. This is the kind that gives me pure satisfaction because I used old stuff in my stash ;-) But psst . . . don't tell anyone, I kind of feel like I'm cheating because it was so easy. Honest!! I put 10 minutes into this. Okay, I put 11 minutes into it because I couldn't find that darned embossing powder ;-)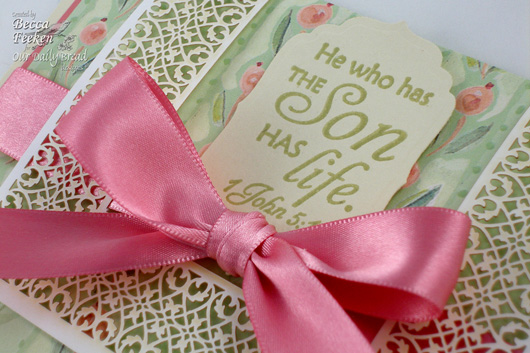 Seriously though, I can't ever seem to make a quick card. I think I've settled onto a personal template that I can use in the future! Here's the inspiration. Rummaging through the clearance bin at Hobby Lobby I came upon some Wedding Invitation/Program kind of things. Since it was laser cut and distressed, I knew it had to come home with me – in hindsight I wish I would have picked up more than one package. They have languished about the craft room for probably about a year. I saw them today and thought how easy and pretty it would be to simply fold the frame in half and drape it across my card. It sure showcases the paper. In these, the middle comes out so it left me ample room to put my sentiment. That's seriously all there is to this card. The sentiment is from The Lord Has Risen Set with Our Daily Bread Designs and I cut it from Spellbinders™ Labels Four!!


Here is a picture of the back. See, I told you . . . quick!!



I know these are discontinued but I will sure be on the look out for more frame type invitations for my personal quick card template. These are the ones I found just to give you an idea.
Card Recipe:

Stamps: Our Daily Bread Designs – The Lord Has Risen
Paper: The Paper Company, K&Co., Coredinations
Ink: Versamark and Embossing Powder
Accessories: Paper Orchid Imprintable Program, Ribbon, Spellbinders™ Labels Four