She's done it again! My sweet friend Wanda Thomas, who sent me the lovely calendar last year, sent another stunning calendar for me to kick off 2012.  You can just imagine my absolute glee when I opened the box!! I love it – it so different and it's sitting front and center on my desk. Now I didn't design this calendar and Wanda didn't a link to send me, but I couldn't resist sharing this with you. I haven't made one myself, but I want to give you enough details so that if you want to make one you can.  It's adorable!!
The calendar came with 12 different tags – one for each month of the year plus a tag for the recipient.  The month grid is either stamped on printed on each tag.

I emailed back and forth to Wanda to get some of the details and here's what I gleaned . . . She used coin envelopes (12), trimmed the top with a die or border punch, then stamped on both sides and distressed the edges.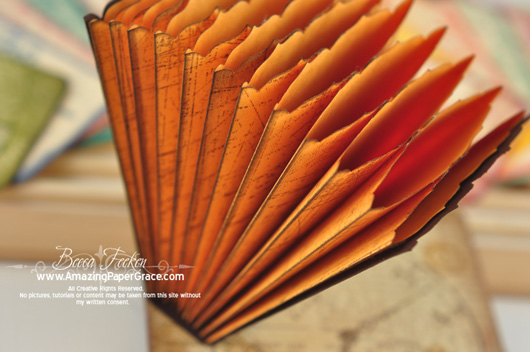 It looks like each envelope has a strip of adhesive vertically down the back to adhere it to the envelope behind it.  The entire bunch of adhered envelopes has a cover that extends down the front, bottom and up the back.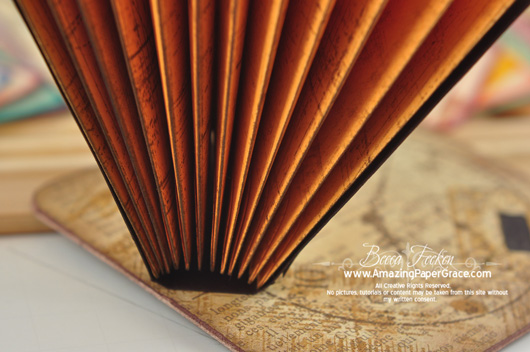 That cover is adhered to a coaster that is covered with design paper and stamped.  So clever, Wanda cut out a small hole before adhering the design paper down and backed that hole with a magnet.
A small binder clip holds the tag for the month and is held in place by the magnet.
Each of the twelve tags is themed and embellished to correspond with the month.  She used a different color to distress each tag and different ribbon is looped in the top.
Okay, now some dimensions for you.
The coaster is 4″ x 4″ (chipboard)
Tags are 2-1/4″ x 3 -1/4″ (cardstock)
Trimmed length of the Coin Envelopes are 3-1/8″
Width of the Coin Envelopes are 2-1/2″
Cover extends 3-1/8″ down, 1″ along bottom and 3-1/8″ up back (heavy cardstock)
I can tell she used very strong adhesive on the bottom.
Bottom part of binder clip is 1/2″ x  1/4″
Cut opening for magnet is slightly larger than binder clip.
So there you have it.  I think it's a pretty simple project and stunning when finished.
Thank you so much Wanda!  You made my day, girlfriend – there's nothing like handmade!!