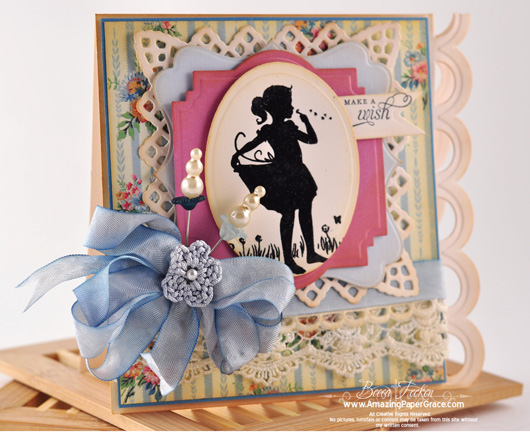 Hi there blog friends!! Can I gush? I am loving sitting down with these new die templates to figure out which ones  to layer.  I think this combination is going to be one of my favorites!  It took me a minute but once I got it,  I thought . . . yes!   Things click like that, don't they?  Just a little bit of insight – I put together the medallion then went looking for a stamp (it rarely works that way).  Once I sat down to think about the vintage feel of the card, I knew this Flourishes set called Kids Play would have the perfect image and sentiment. Isn't it sweet?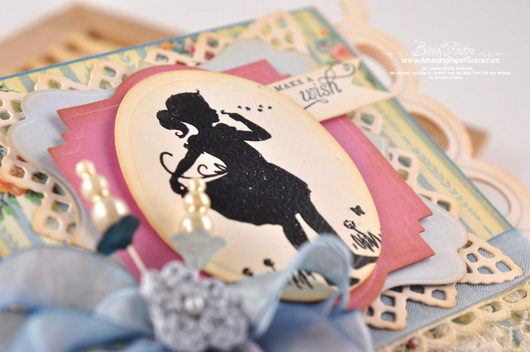 I layered (from the bottom) Spellbinders S5-063 – Lace Doily Motifs followed by Spellbinders Labels Sixteen and on top of that I put the new Spellbinders S4-346 Labels Twenty Two followed by Spellbinders Classic Ovals LG. The sentiment fit perfectly on one of the elements from Spellbinders Lacey Nested Pennants. Did you check out the side?? The new Edgeabilities Borders are a dream!! I used E8-001 Classic Scallop which has three borders in the set.  I cut folded card base once with the scallop edge then cut my folded card base once with the matching hole edge and the product was a large lacey scallop. Because I cut both sides of the card base at once, it insured a perfect match.
Okay, more gushing.  I recommend you look away now if you are at risk because I'm so excited about my latest acquisition.  I love vintage look papers!  Love!  Love! Love!! Did I say love? I hunt for them obsessively and to me they are quite hard to find.  Well, I've learned that there are tons of digital papers out there that have a vintage feel.  I just got the new Crafty Secrets Vintage Patterns CD that has 72 different papers that you can print out.  Can you hear me singing right now?  I nearly tackled the post man to get it out of his hands.  This was a no-brainer – I will use every one of them!!  So the sweet little blue striped paper with roses on my card is off of that CD and I'm just as tickled as punch.   I distressed all my papers with Antique Linen Distress ink and then a scant amount of Vintage Photo Distress Ink.  I finished up the card with some pearl picks, custom dyed seam binding and a store bought crochet flower (has been in my stash for years!!).  Oops, don't let me forget about the lace on the bottom.  Can't forget the lace, lol!!
You all have been sooo sweet!!  It really is a pleasure for me to tour through the new die templates.  You can't tell how excited I am, can you?  I'm like a little kid in a candy store!!