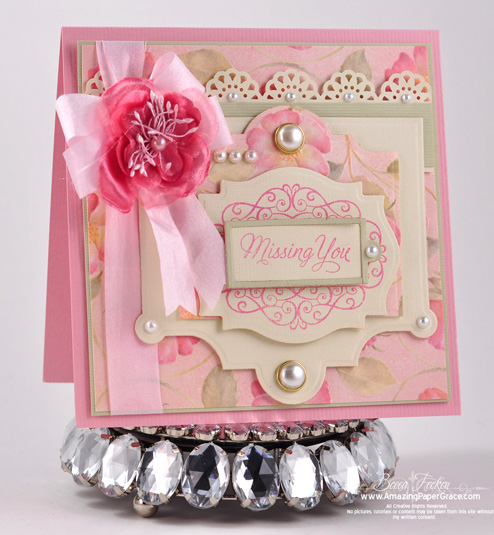 Hi there blog friends!  Hard to believe that we're barreling into March, but we are!  Today I'm sharing a new release from JustRite Stampers called Hugs to You Borders and Centers.  It's ohhhhhh, sooooooo elegant and the borders are thick!!  This is a new set from the JustRite Ribbed Collection and you'll see that the oval shape nestles right inside several Spellbinders shapes.  One of the shapes I chose to use today was Spellbinders Labels Eighteen.  I've seated my Labels Eighteen on a base made with two elements of Spellbinders Creative Book Pages – I love this set.  I had to prove to myself that it can be used for more than pages – it can :-)

The filigree in the stamp set is magnificent and the script font is dreamy.  I chose my favorite pink, green, pearls and flowers.  All my favorite things!!  Today I'm using a sketch from Mojo Monday – #180.  I was so happy to see that it was a square card or circle choice because I sure wanted a square card today!!
Happy Monday y'all!!  Go have a great week (wink).