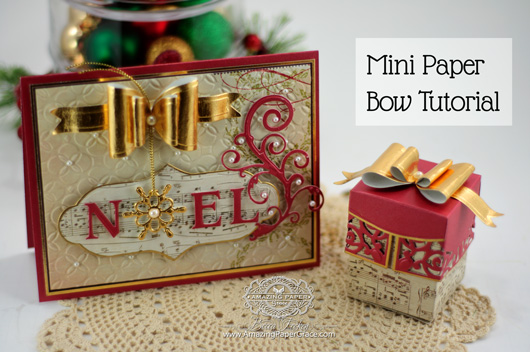 Hi, it's me again!!    I have a teeny tiny three step, three minute tutorial for you today.  In my wanderings on the internet I've seen the cutest paper bows.  On closer introspection,  the shape of one caught my eye, but it was flat and I didn't have the items they used.  Light bulb moment!!   I wanted it in 3D it with common dies from my stash, turned out to be easy.  In fact, it was the inspiration for my card today that almost feels naked without a stitch of ribbon, but squeaks by with a plump paper bow that's just begging for a box to go along with it :-)
The tutorial steps are listed below.  Click HERE to go to the pin on Pinterest.
Here's your Step By Step Recap of die cuts and layers, from the bottom up:  Start out with a Card Base made using  4-3/4″ x 6″, foam tape, gold matting layer cut to 4-1/2″ x 5-3/4″, burgundy matting layer cut to 4-3/8″ x 5-5/8″, design paper layer cut to 4-1/4″ x 5-1/2″ and embossed with Spellbinders Whimsy M-Bossabilities, foam tape, die cut layer using Spellbinders Labels Thirty Three, foam tape, die cut layer using Spellbinders Font One – Uppercase for the 'N-E-L' and Spellbinders Create-A-Flake 5 for the 'O', embellish with flourish from Spellbinders Jewel Flowers and Flourishes, and bow described in tutorial above using Spellbinders Charmed I'm Sure and Spellbinders Classic Ovals SM.
If you're curious about the box, it's an easy one made using Spellbinders Filigree Delight.  I have a video to show you how to make the box HERE.  The box in the video is 5-1/8″ tall while my box today is 3″ high – I simply trimmed it down until it was just the right size to go along with my card.  Plunk a bow on top, and you're in business :-)
As you know, I love boxes, if you're interested in giving another box a whirl, here's one you might have a go at https://www.amazingpapergrace.com/as-promised-filigree-box-tutorial/.  (I'm hanging my head, as I know I owe you a tutorial on a box I did in August – it is coming :-))
CRAFT SUPPLIES I USED
Rubber Stamps: None
Craft Paper: Recollections – Holiday Shimmer, My Minds Eye- Lost and Found Christmas, DCWV Foil Cardstock
Ink: None
Accessories: Spellbinders Whimsy M-Bossabilities, Spellbinders Labels Thirty Three, Spellbinders Font One – Uppercase, Spellbinders Create-A-Flake 5, Spellbinders Jewel Flowers and Flourishes, Spellbinders Filigree Delight, Spellbinders Charmed I'm Sure, Spellbinders Classic Ovals SM, Recollections Pearls, Grand Calibur Die Cut Machine
So, in my wanderings through Facebook, Pinterest or somewhere, someone said "only 10 more Saturdays until Christmas".  Lol, my post today is a panic response to that statement!  I know there's still time but please keep telling me things that will light a fire under me okay?  It'll be here before I know it and I'm lollygagging :-)