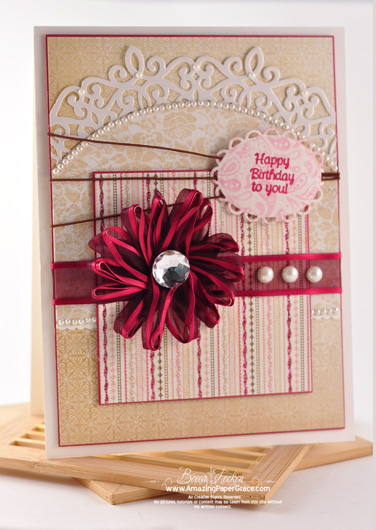 Note: You have until 8:00pm EST to leave a comment for the ODBD prizes found at this link ——>Click Here.
You also have until tonite to leave a comment for the Prima paper I'm giving away—–>Click Here.
Hi there friends, Happy Monday!!!  I had a good weekend and hope you are starting off the new week feeling blessed.  As usual I'm starting off the week with a Mojo sketch – Mojo Monday 189. The center flower was constructed with the flower loom I made.  Incidentally since making that video, many people have emailed me that there are flower looms on the market, most notably there is one that is put out by Knifty Knitter.  I was surprised to see this!  The pegs are removable and it functions the same as mine however there is no nail in the center so that you can impale the ribbon in preparation for a brad.  On this one you have to sew around to keep the loops in place.  Their's makes a larger flower and mine is 3.25 inches in diameter.  I might have to find one of these today:-) 

I took a tiny bit of liberty with the sketch and used a curved panel instead of a straight one, because I wanted to use another cupcake wrapper.  So frilly and I didn't have to cut it myself!!
SUPPLIES I USED
Stamps: Our Daily Bread Designs – Mini Tags 3
Paper: My Minds Eye, Strathmore Acrylic, Coredinations
Ink: Colorbox Chalk – Dark Maroon
Accessories: Ribbon, Memory thread, Pearls, cupcake wrapper – Joanns

Don't forget to weigh in on my new poll!!  Hey, and thanks so much for stopping by.  I'll have the winner of the Prima paper some time tonight.