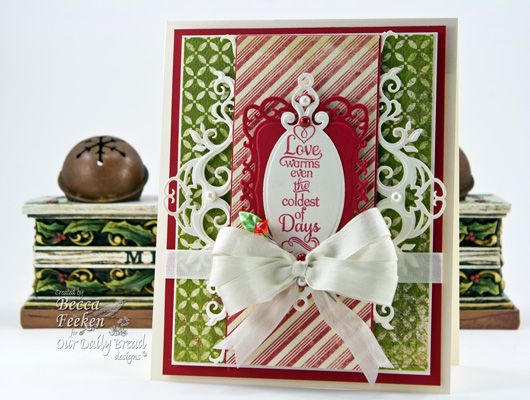 Hugs to you blog friends!!!  I hope you are having a crafty holiday weekend.  As promised, I'm back with a card.  Of course this wasn't possible without first sitting down to try to get the cobwebs from between my fingers – I'm rusty at this.  It's a joyous day though and I'm showering you all with love.  What a glorious feeling to have new stamps and someone in mind for a pick me up in their mailbox (insert mischievous elf smile here).  Even though I missed the release, Our Daily Bread Designs had the most yummy new Christmas stamps for their release this month – I'm sharing one with you today from the Snowy Blessings set (oh how I love tall skinny sentiments!).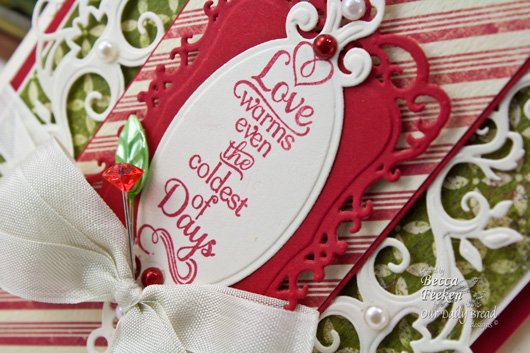 On the corner of my desk I have bits and pieces of cards I want to make.  Usually it's one element that's stuck in my mind and the rest falls in place when I make it.  For months I knew I wanted to use this new D-Lite (single dies at a great price :-)), Spellbinders™ Flourish Trim as a vertical frame.  It worked out perfectly for a holiday card.  On top of it I layered a thin panel then popped up Spellbinders™ Decorative Labels Eight and finished by stamping my sentiment on Spellbinders™ Fancy Framed Tags One.    Did you know that I'm a foam tape addict?  Yep, I popped up the red layer, the combined cream and green print layer, the combined Flourish/Red/Candy Stripe print layer and finally the combined red labels eight/fancy framed tags layer – that makes four.  Although this card works out just as well flattened down to one layer – if you're iffy about layers, I encourage you to give it a try.  It gives your cards just a little bit of umph!  If you're afraid of heights, then just try one or two layers :-)  Any other foam tape addicts out there?
Overjoyed to be rubbing elbows with you again!!  Happy Holidays sweet friends!