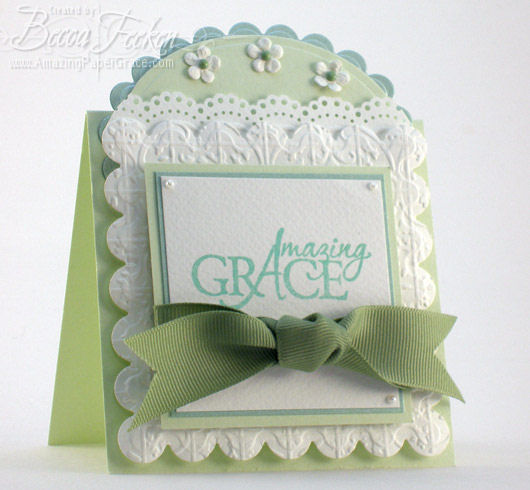 I love this little stamp!! I'm sure you will see this quite often. At any rate, I wanted to do a smaller size card, which is a rare event for me; this one is 4" x 4" . It isn't so much that I love green as these supplies were handy on my table when I was trying to think about what I wanted to make. The paper that I'm using here is the same I've used all week, Fabriano Acquarello watercolor paper (white) and the cucumber and aloe colored papers are a cover weight from The Paper Company (here is a list of their products – check to see if your local retailer carries them – I get mine at Michaels)…that paper is spoiling me such that I almost don't want to use anything else.
The base card is green (cucumber) and on top I've layered a scalloped square that is embossed with the Cuttlebug Textile Texture Embossing folder and then over-scored a grid with my Scor-pal – I call it double embossing. On top of that I've layered a cucumber and aloe panel topped with watercolor paper. Amazing Grace is stamped with Versamagic Aloe Vera and tiny tiny pearls were placed in each corner of the panel before a ribbon finished the design. The upper arc is a Nestabilities Scalloped Oval layer with an Oval, both are attached to the front side of the card and embellished with a border.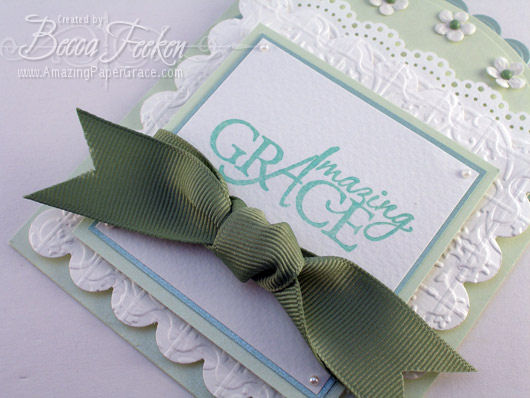 Several have asked what watercolor paper I've been using and where to get it. I've been using Fabriano Acquarello, cold pressed, purchased in pads that are 9½" x 12½" and come in weight of 90 lb (75 sheets per pad) and 140 lb (12 sheets per pad). I use the 90 lb for card bases and I use the 140 lb when using embossing folders or Nestabilities because it gives such a good impression. I get mine at Hobby Lobby, but if you don't have one near you, it can be ordered at Dick Blick.
Note: I know that I have typed both Acquerello and Acquarello…..I've seen it both ways, but I've decided to stick with the acquarello spelling from now on. Sorry for any confusion ;)
Supplies:
Stamps: Stampabilities – Amazing Grace
Ink: Versamagic – Aloe Vera
Paper: Fabriano Acquarello Watercolor (White), The Paper Company (Cucumber and Aloe – Cool Metallics)
Accessories: Scor-Pal, Cuttlebug, Nestabilities, Ribbon, Pearls, Martha Steward Scalloped Border Punch, Prima Flowers, Mini Brads