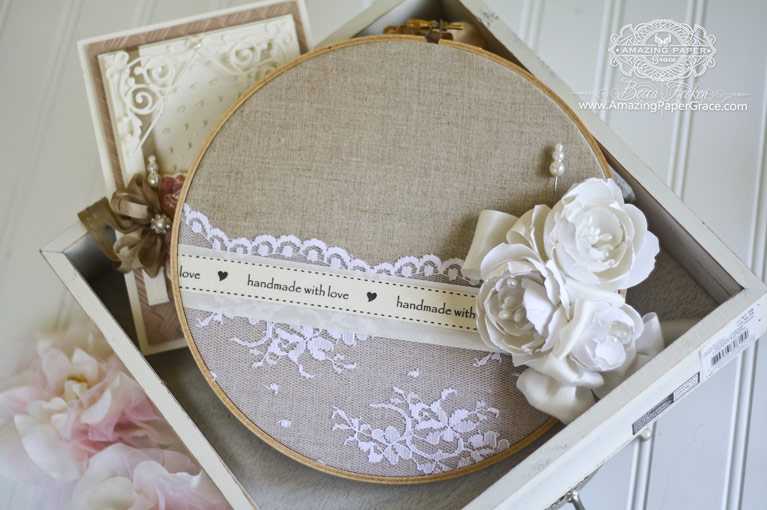 Good morning!!  I'm excited to show you a little gift I made or perhaps I should say 'made up' – let me explain.  I often send cards to my girls and on my last visit I was so tickled to see they keep these cards on display.   I told them they didn't have to do that for me and they sweetly informed me they do that for themselves – they said they like looking at them. Well imagine that :-)  I've been trying to think of a novel way for them to display the cards so that they can easily display the most current one.

Linen and Lace
So, I came up with this Lace and Linen Hoop adorned with flowers.  My thought was to create a pocket so that the back leg of a card can be slipped into the lace pocket and when ready for the next card, just pull it out and put the next one in! The hoop adds a sweet bit of decoration and can be placed on a stand on a desk or can be hung on the wall in an office.  Here's the card from yesterday, perfect fit ;-)

Layered Blooms – Contour Die.
It is made with Spellbinders Contour Die – Layered Blooms.  This is one of my most favorite dies and I used it extensively at CHA!  If you remember the wedding dress, this is the row of flowers that went around the bottom and up the shoulder.  I'm asked all the time, so I'll offer a recommendation – if you are just beginning to add steel rule dies to your collection, this is a great one to get started with.  It's a basic die that will get many uses and it is roughly the same cost as a thin die set.  I'll be doing a tutorial with this die tomorrow and will show you how to use it and be able to get the same results on an easy flower every time :-)
(Note: Your current machine may accept Contour (Steel Rule) Dies – check it out to be sure.  The Spellbinders Platinum Machine is able to accommodate Contour (Steel Rule) Dies.)

How It's Made
This project was as simple as pie and took me about 30 minutes.  I purchased a 9″ hoop from Joann Fabrics along with 1/3 yard of lace and 1/3 yard of linen and ribbons from my stash.
 I doubled my linen, starched and ironed the small piece then added my lace on top positioning it so that it would fall midway the hoop.
 I laid a small length of silk ribbon and printed ribbon across the top to stabilize the opening of the pocket (not glued, not sewed).
 I positioned my hoop, closure at top and seated it over the ribbon, lace, linen sandwich and tightened the top of the hoop with a set of pliers (strong hands would do just fine).
 I hot glued three flowers made using the Layered Blooms Contour Die on to the right side of the hoop.
Flower 1 – largest flower at top – is made with 4 large petals, 2 medium petals, 1 small petal – 2.5″ diameter.
Flower 2 – medium flower on left – is made with 3 large petals, 2 medium petal, 1 small petal – 2″ diameter.
Flower 3 – small flower on right – is made with 2 large petals, 1 medium petal, 1 small petal – 1.25″ diameter.
I poked loops of ribbon into the crevices between the flowers and glued with a hot glue gun to simulate a bow.
I trimmed excess fabric flush with top of hoop.  If desired, run a bead of glue or hot glue around the crack between hoops to secure the hoop.
To finish, I topped it with a bow.
Other uses – Flower 1 is appropriately sized for the top of 3″ gift box such as this one I created HERE
                     Flower 2 or Flower 3 are appropriately sized for cards either alone or as a cluster.
I love it that hoops are popular again!!  This was a simple project that gave me a great sense of accomplishment!


Rubber Stamps: None
Craft Paper: None
Ink:  None
Accessories: Spellbinders Contour Die – Layered Blooms, 1/3 yard of lace cut from 45″ bolt (Joanns), 1/3 yard of Linen cut from 45″ bolt (Joanns), 1 yard silk ribbon, white flower stamens (Hobby Lobby), 1 corsage pin, hot glue gun


I had hoped to have my video ready today but unfortunately I've been under the weather this week and have had no voice for the last couple of days. Voice willing, the flower tutorial will be posted tomorrow!  I love these flowers and hope you will too!