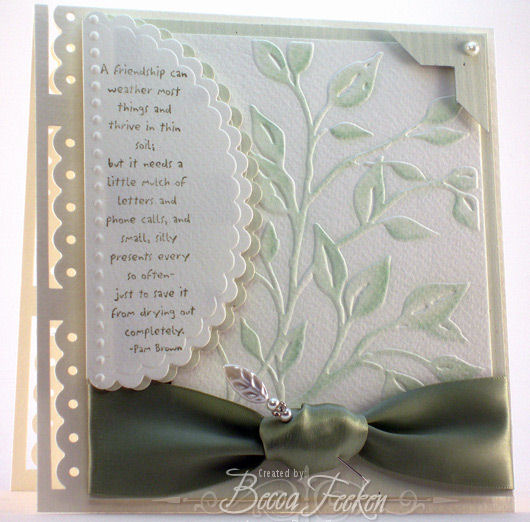 Howdy, I'm back again with another new Cuttlebug embossing folder, this one is called Leafy Branch. I rearranged the items on this card several times because I wanted to be stingy about how much of the leaves would be covered up – that's how I settled with the half oval shape. Here again I tried to keep things pretty simple. The background is colored with chalks and I tried to use as light a touch as possible. Once finished, I went over it with a chalk pencil, to add just a tiny bit of shading to the sides of the leaves. The half oval is the largest of the set and is cut twice and offset just a little bit to give some dimension. The left side scallop is done with the Fiskars Threading Water Border Punch. Instead of lining it up to make a perfect scallop, I spaced it out and missed a scallop so that I could keep the flat edge of the paper.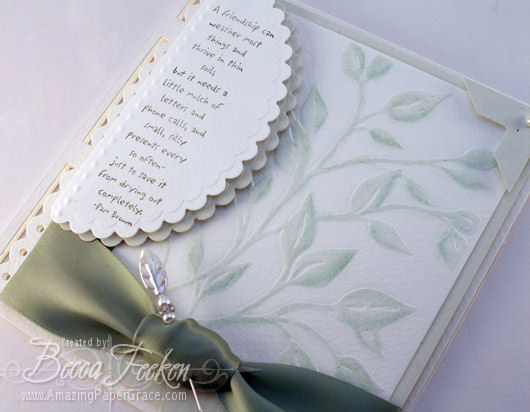 The dotted embossed edge on the half ovals is another new Cuttlebug Embossing Folder…it's very different though because it's less than a half inch wide and as tall as the regular embossing folders. This is a border embossing folder and there are five different borders in each set. I know I'm going to love those because you can target different areas with a little bit of embossing without overwhelming.
I'm having fun with the Cuttlebug stuff so don't be surprised if you see more. In the meantime hoop and holler – it's Friday!
Supplies:
Stamps: Hampton Arts
Paper: Fabriano Acquarello Watercolor, Sage – Becca's Stash
Ink: SU Mellow Moss
Accessories: Cuttlebug Embossing Plate, Nestabilities, IKandee Chalks, Fiskar Border Punch, Pearls, Ribbon, Pin, Rhinestone Rondelle, Corner Punch