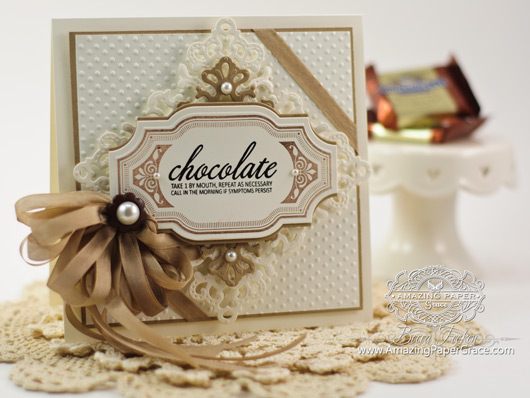 Hi there friends, I'm back for Day 5 of the JustRite Papercraft February releases and today my project centers around a very, very serious subject.  As a matter of fact when I sat down to write this post I wasn't quite sure how to approach it.  I mean, when you see the card doesn't one word sum it all up?  I'd say it does.  As a matter of fact, after a hard day, I've been known to use this word as an exclamation.  Yes, it's true :-)  So no occasion necessary to send this card but once the recipient 'gets it', they'll understand – just sayin'  The stamp set is Home Bakery Labels and  I alternated chocolate and cream layers with JustRite Vintage Tag Dies and Spellbinders Ornate Squares.
Lol, the take '1' by mouth is a hard instruction to follow.  When it comes to chocolate, who can eat just one?
Here are the rest of the design team members that have designs to share – hope you can take a second to visit:
JustRite Inspiration • Eva Dobilas • Becca Feeken • Marisa Job • Michele Kovack • Darsie Bruno • Angela Barkhouse • Kristi Schurr • Heidi Blankenship • Robin Parker

Wishing you blessings!